The Nine of Pentacles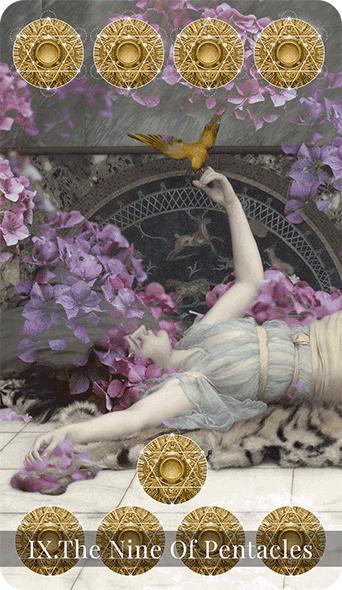 The Nine of Pentacles is a card of sacrifice and discipline as a means to getting what you want.
When this card is revealing in your reading you are in good hands. The Nine of Pentacles shows that unlike others, you have learned from your own mistakes and you are working on moving forward in your life. Right now is an excellent time to be making plans to complete goals, rather than to be starting on something new. Take the time now to reap what you have sown and to watch the positive materialize.
Often we mere mortals will finish a task and then move on to the next without a thought of consequences. This is not a time that you want to do that because the Nine of Pentacles usually represents positive rewards coming your way. As you may know 3 is a magic number. It is the number of the divine; a blessed digit. With the Nine it is the manifestation of 3, threefold (3x3=9) and it shows an array of good fortune for you.
The culmination of your heard work has come to a head and it is time to celebrate! It is also a great time for family, coming together, and planning events. You may want to celebrate with others or even show off your hard work a little bit. You never know, you may have some information to be sharing with people soon as well since this is a good card for fertility and family! Much good energy comes from this card and now is the time to dwell upon the possibilities that are being created and assert your focus into the positive areas of your life. Do not dwell in the past when the present has so much to offer!
The Nine of Pentacles in Love
Focus on the contacts that you have already made when looking for love. When the Nine of Pentacles is present, it is likely that love is around the corner and that sparks are already flying. Whether in a relationship or not, connections at this time or strong and there are great opportunities for growth and positive natural change in romance. The Nine of Pentacles is a vibrant card with astounding energy. Now is the time to cultivate relationships of all kinds and bring them to fruition within the direction that you are hoping for. If you find that you are feeling down or left out in love, often all you need to do is to look around. Sometimes when things are dark, it's easy to focus on the negative and ignore what you already have. Don't downplay your emotions at this time. Speak up and act out in order to get what you want.
The Nine of Pentacles in Health
The Nine of Pentacles brings good news for health, especially if you have been working on a health concern (like losing weight, controlling blood pressure, etc.) or concerned about a need for healing (such as recovering from surgery or after an injury). The Nine of Pentacles is a strong card for the strength of mind and body and says that now there are energies that are helping you along. The time is right for increased stamina and you may want to use this to your advantage. Continue working on your positive efforts and you will see rewards!
The Nine of Pentacles in Work and Wealth
The man on the Nine of Pentacles card is tending his garden and noticing what is growing forth from whence he planted. There are pleasant feelings surrounding the card denoted by the yellow background and the thriving plant before him. Like the man on the card, this is a good time for you regarding both career and money. With money specifically, the card often accompanies a windfall of sorts, again from an investment, or simply finding money that you had forgotten that you had. It's not money from nowhere and is usually associated with your earning of the funds in some way. Now would be a good time to go through your portfolio… or even your couch cushions… to find unexpected strains of income. Concerning work, the Nine of Pentacles tells you that you are doing a number of things right. First, you seem to have been working hard in your job or career and when this card is present it is likely that someone with power or status has taken notice of your efforts. It is a reminder card that you are on the right track for job development. Continue moving forward and that attention will be considered in some way that rewards you.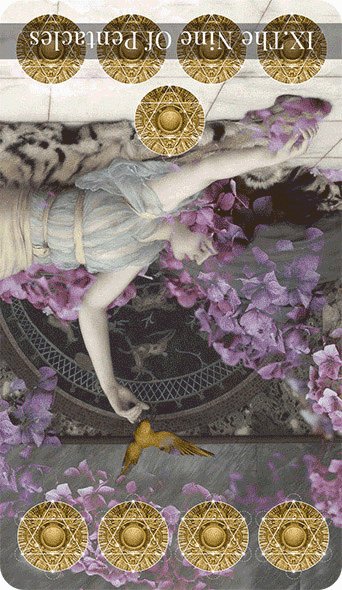 Reversed Nine of Pentacles in a reading
When the Nine of Pentacles is revealed in the reversed position the news is not all bad. There is still good news to be had for you… if only you are willing to work for it. Unfortunately, those that don't heed the warning of the Nine of Pentacles in the reversed position end up missing out on a missed opportunity in their life that they will likely kick themselves about later. Typically when the card comes up it is telling you that there are chances that you are missing by not being active enough or initiating the proper channels to get what you want. For example, in love… if you are looking for love then you are either looking in the wrong place or not taking a direct enough action to catch the eye of someone special. In work, there is likely to be an opportunity for advancement but you need to shine! Be mindful of chances around you right now and fight the urge to be lazy right now. Your window of opportunity won't be there forever!
Upright Nine of Pentacles Meanings in Keywords
Feeling loved
Heavenly feelings
Lousy decisions
Bad investments
Luxury
Strength
Discretion
Renovation
Self-fulfilled
Pleasure in material existence
Stable and fruits of labor
Enjoying time alone 
Reversed Nine of Pentacles Meanings in Keywords
Achievements
New lifestyle
Improved life
Boosted health
Feeling secured
Being cautious
One night stand
Bright future
By Flo Saul
Jul 10, 2012