The Four of Cups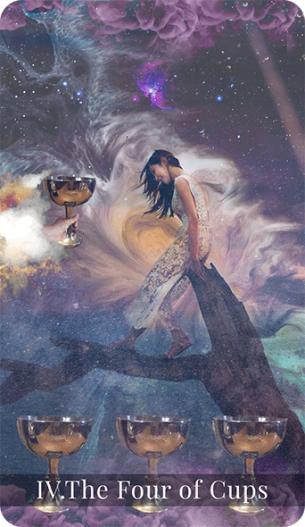 If you have received the Four of Cups in your reading then you are likely either experiencing a time of weariness or frustration in material affairs or you are about to experience a transit of this.
The Four of Cups recognizes that there is a lack of perspective happening in your life. The young man, depicted on the card, is sitting under a tree contemplating his material possessions in life. He feels broke, unappreciated, weak, and empty. In front of him are three full cups that he does not notice and from above, another cup is placed in his reach, but he ignores it. There is a level of jadedness associated with this card. A lacking of seeing what you have and only focusing on what you do not possess. The Four of Cups is pointing out that you have a lot more then you are willing to see right now. Taking all of your fortunes for granted is a fast way to ensure that you do not receive more.
This is a cautionary card; right now you have the option of stepping out of this kind of behavior by learning again to be grateful for what you have. When you are grateful, you are telling the Universe that you would like more of what you have, lots more. When you are taking what you have for granted, you tend to fill up much of your thoughts with a level of emptiness or frustration, and then being that we create our realities, the Universe gives you more of what you are thinking about. Right thought is what the Four of Cups focuses on. You need to reorganize your thoughts so that you are in a position of thankfulness. Should you choose to ignore this, you will continue on this cycle of frustration.
The Four of Cups suggests not only the meditation on what you do have but also consider physically putting yourself in a position where you might see others who are less fortunate than you to get yourself back on track. This is a great time to give to charity, to work in a soup kitchen. The offering of servitude will strengthen your sense of character and reroute you to a better mindset of receiving rather than ignoring. You are bored and are in need of motivation. But you haven't been making any steps toward your goal because you are dissatisfied with what you have accomplished. You are being too hard on yourself. It is time for you to prioritize and to examine what you have done and then consider what you still have to do.
At this time, chances are there are people in your life or foundations or some kind of outside help that has been offering to provide assistance to you but you have not seen it because you have been so swept up in your own lack mentality. Now that you understand the guidance the Four of Cups has to offer, reevaluate and see if you can now identify those that have been trying to help you, and then accept their help with gratitude, not guilt or anger. Identify how you are feeling dissatisfied and then figure out what you are going to do about it. Identify what will help you find peace and serenity and then apply that to the areas of your life that you are feeling dissatisfied. Meditate on the changes possible for you to get you out of your funk.
If you find that you are still frustrated or angry at your circumstances, then use that energy productively. Start getting busy; work hard until you are exhausted just so that you can feel a sense of fulfillment and satisfaction. When you have reached this point and have crawled out of the pit of ungratefulness, you will find that everything begins to work right again. Your main relationships are supportive and under control. You have an underlying knowledge that you are not alone and that there are those out there who love to experience life with you. You will receive back that level of peace of mind that you have been missing. And then you will become a magnet for abundance and creative energy where you will be able to make your fantasies into a reality.
The Four of Cups in Love
Stalemate. In this position the Four of Cups is telling you that your love life is stagnant, waiting for you to see it for what it is: Broken and stale. You are taking advantage of others as much as they are taking advantage of you. You are not seeing the great things that are possible to you. If you are single, it is possible that you have an admirer that you are not paying attention to because you are so worked up feeling as though you will never have anyone to love you. Consider how these thought patterns are potentially sabotaging who you are in your pursuit of love and romance and then stop it from going any farther.
Within a relationship, it appears that you are caught up in a life that does not exist. You feel as though your partner should be behaving in a different way and you have begun wondering what it would be like to be in another relationship. In this, you have become ungrateful for the love and support that you share every single day. Consider what fantasies you have that could be applied to your current relationship so that you might see it in a whole new, fresh way.
The Four of Cups in Health
The Four of Cups presents itself in a reading about Health to tell you that it is time that you take advantage of the physical strength and health that you do have. Right now you are allowing yourself to be victimized by your ill health. Or even by the fear of ill health. The only way to be healthy is to perpetuate it, and work at it. This card is saying that there are multiple healthy bodily functions that are happening in your body at all times, but you do not recognize them and are therefore taking advantage. This is creating a sickly cycle that you must get out of should you ever decide to live an active, happy life.
The Four of Cups in Work and Wealth
When the Four of Cups shows up in your work or wealth reading, there is a level of opportunity that you are ignoring. Meaning, you are so stuck thinking about what you do not have that others have, that you are missing out on your own opportunities to progress. This is your own doing and you must change the way that you think to acquire the abundance that you desire.
Four of Cups Advice
When the Four of Cups appears in your reading it means you are being offered help but are too preoccupied with something else to accept what's in front of you. You likely feel apathetic or reluctant about accepting help from outside sources. Perhaps you are still nursing old wounds or acting independently to a fault. This card visually symbolizes a cup which is being extended to you, yet you close your eyes and refuse to accept it - an action you may later come to regret. 
It can also refer to your personal state of mind; you may be feeling numb, bored, or discontented. Your despondency is impeding your view of the world around you and you are missing opportunities as a consequence. The man in this card is comfortably seated, despite being visually ill-at-ease, perhaps there is more satisfaction to be found in your present situation than meets the eye. That is why this card is sometimes known as the 'grass is greener' card. 
Drawing the Four of Cups in an advice spread is a signal that you should accept the support being offered to you and reassess any hasty decisions you have recently made. Remember, accepting help is not a sign of weakness - welcoming the kindness of others will contribute to your overall strength and help you on your personal journey. 
Four of Cups Yes Or No
The Four of Cups upright signals apathy and even restlessness. This may be frustrating to hear, but at present, there is no clear answer. However, this does indicate that you need to be decisive, but also contemplative, going forward. Thoroughly weigh up all your options before hastily saying "no" to new opportunities. Try and see your current situation with fresh eyes and express gratitude for what you have. 
Moving out of a mindset of boredom will reinvigorate you and help you move past the stagnation you are currently experiencing. The way you read this card will depend on your current situation and the rest of your reading, but one should lean towards a feeling of positivity and affirmation as this will steer you away from a place of dissatisfaction. When reversed, the Four of Cups indicates positivity - a "yes" to what you are currently doing. It suggests you are beginning to get your life back on track after coming out of a dull chapter - keep doing what you're doing!
Four of Cups Past
The Four of Cups in the past position may indicate recovery or revival in your life. You are likely breaking away from a chapter that you were not enjoying. Reflect on your past, have you come out of a period of dissatisfaction or depression? Whatever the situation, now is the time to keep pressing forward. Remember to check in with yourself and your life situation. Try and be appreciative of what you have, and remember to keep welcoming in new opportunities. Growth often means moving outside of your comfort zone and this is a good thing. Focus on honesty and transparency so that you don't fall back into old habits or become embittered by small put-backs. 
If you are not happy or progressing in your current situation, then drawing the Four of Cups in the past position may indicate that your current situation has arisen out of your past refusal to accept help or take on new opportunities. If this is the case, it is easy to be consumed by feelings of blame and resentment. To move on from this situation, you must accept the past so you can move forward with new opportunities in the future. 
 
Four of Cups Present
Drawing the Four of Cups in the present position suggests you are closed off to opportunities and solutions which would help you address the problems currently afflicting your life. Perhaps you are being hostile to those around you, needlessly acting stubborn, or ignoring advice from those who have your best interests at heart. You're still reeling from feelings of past hurt. Bitterness is the feeling overwhelming you at present and it's sucking up all your energy in the process. 
Seeing the Four of Cups in the present position indicates that there is still time to reassess your situation and throw off the shackles of self-imposed constraints. The cup is still being offered to you, you simply need to open your eyes and take it! Be honest with yourself and your situation - seek out areas where you can help, rather than hinder, yourself. Remember to chase opportunity and accept the support of others, so you can move out of a period of discontent and into a new era of prosperity and satisfaction. 
Four of Cups Future and Outcome
The Four of Cups card is most beneficial when associated with the future. Drawing this card in the future and outcome position points to possible enlightenment; with time, you may understand that negative experiences in your past were actually lessons and the experiences have actually made you stronger. It may also indicate that you have understood past mistakes and will not repeat them again.
Seeing the Four of Cups in your future can also indicate another decision that is upcoming in your life; an opportunity (signified by the cup) will be presented to you and you must fully weigh up your options before making any rash decisions. Take the time to think with both your heart and head, the right path will present itself to you, make sure you are patient enough to wait for it.
Four of Cups Love Reconciliation
When the Four of Cups appear in love and reconciliation reading it can indicate regret for a past relationship gone wrong or pain relating to mistakes made in your current relationship.
If you are single, the Four of Cups suggests you are focusing on what is missing in your love life rather than seeing opportunities for love that are right in front of you. Are you letting a preoccupation with past loves inhibit an opportunity for new romance?
If you are in a relationship, the Four of Cups usually suggest complacency; this may mean that your passion has fizzled out and your time as a couple has run its course, but it can also suggest that you are not appreciating what you have. Take the time to communicate with your partner, make an effort to reignite your flame - if your efforts prove futile, it may be time to part ways.
Four of Cups As Feelings
Drawing the Four of Cups in a spread about how someone feels about you can suggest that the person you are interested in is closed off to new relationships. They may not have truly opened up yet emotionally - this does not indicate that you are doing something wrong, instead, it may be the case that they have yet to open their eyes to how wonderful you really are. In order for things to move forward, this other person needs to let go of their past so that they can achieve emotional clarity. Look for signs of their progress going forward - if you see none, you may be wasting your time on a person who is blinded to the potential of a new relationship.
Four of Cups As Friendship
Drawing the Four of Cups card in relation to friendship suggests that now is the time to review the friendships in your life and your attitude towards those closest to you. Look at your own actions and ask yourself whether you have always helped friends in times of need. Perhaps you ignored a difficult situation or closed down rather than communicating with a friend when things got tricky. If you have yet to make amends with an old friend because of historic resentment or difficulties, the Four of Cups is likely telling you to let go of the past and reconcile.
The Four of Cups can also suggest stagnation in friendships - are you sticking with one core group of friends and missing opportunities to befriend others? If it's been a while since you last made friends with someone new, now may be the time to make new connections and watch your friendships blossom.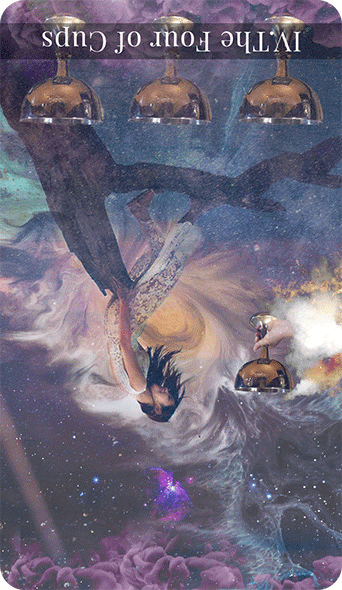 Reversed Four of Cups in a Reading
The Four of Cups visits your reading in the reversed position to tell you that you needn't worry. Things are happening, people are hearing you, and you are capable of vocalizing your needs and strengthening your world and all of its possibilities. There will be new opportunities offered to you, with new ideas. Do not worry about life not happening or moving forward for right now there are actions being taken to help better your circumstances.
Four of Cups Reversed - Love and Romance
When the Four of Cups is drawn reversed it likely suggests you are coming out of a period of solitude or despondency in a romantic relationship. Upright, the Four of Cups suggest apathy and a loss of passion - but inverted it marks the end of this period of boredom. For those who are in a relationship, the Four of Cups may suggest that you have got through a difficult time as a couple, and now are ready to make a renewed effort to rekindle your lost love and passion. This may be expressed via increased intimacy and affection for your partner. Alternatively, the Four of Cups can also point to the natural end of a relationship. You have done some soul searching and realized that your relationship is not working and it's time to move on and seek new pastures.
If you are single, the Four of Cups reversed implies that you are ready to emerge from a period of isolation or solitude. Perhaps you have taken a break from dating or spent time healing after experiencing a broken heart. Whatever the scenario, you have come out of the other side and you are ready to knock down your emotional walls and open yourself up to someone new. Make sure you keep up your enthusiasm and fully embrace your fresh start, now you have healed there will be plenty of opportunities for you to spark a romance with somebody new.
Four of Cups Reversed - Family and Home
Drawing the Four of Cups reversed in a family and home spread can suggest your family is transitioning out of a difficult period. Perhaps you or your partner have come out of a time where you were allowing work to take over with lots of overtime and hours spent away from the home. You, or someone in the family, may have become self-absorbed and isolated themselves from the rest of the clan. Before, the joy and the company of loved ones was missing from your home - but now you have come out of this darker chapter and are all feeling closer than ever. This is the perfect time to spring clean your home and make an extra special effort to enjoy quality family time together. Having recovered from a chapter of apathy you can feel extra gratitude for your family and the security the home provides for you all.
Four of Cups Reversed - Work and Finances
The Four of Cups reversed in a work and finance spread suggests a new, positive change is coming your way. You may have been stuck in a period of boredom or frustration with your work, but that's all about to change. New opportunities will present themselves to you, and you will be proactive in chasing them. Whether it's leaving an old job that was draining your energy or achieving a coveted promotion, the Four of Cups reversed suggests progression, both in terms of your career and your finances. Keep a hold of the positive energy currently energizing you and let it steer you in new, exciting directions. The Four of Cups reversed may also point to a personal epiphany or moment of realization, perhaps you have become aware of all that you have in terms of work and money. You have let go of past jealousy and instead turned your focus inwards to reinforce a feeling of contentment.
Four of Cups Reversed - Health and Wellness
Seeing the Four of Cups reversed in a health and wellness reading is good news indeed. You may have recently endured poor health or a lack of energy, but now you are on the road to recovery and feeling much better physically and mentally. If you are still dealing with certain health issues, this card may indicate a change in mindset; perhaps you are feeling a renewed sense of gratitude for the areas in which you are healthy and able. In the past, you may have allowed issues with your health affect your overall outlook, but the Four of Cups reversed indicates that you are ready to let go of bad energy and enjoy your restored health and wellness to the fullest extent. 
Four of Cups Reversed - Personal Spirituality
Drawing the Four of Cups reversed in a spiritual context shows that you are on a path to spiritual liberation. You may have been carrying emotional baggage prior to this change - you were weighed down by regrets and resentment from the past - but now you are ready to move on and embrace the power of the present. The Four of Cups reversed indicates a deepened sense of gratitude and reconnection to your spiritual path. You are no longer adrift but focused and ready to experience spiritual fulfillment in new, revitalizing ways.
Upright Four of Cups Meanings in Keywords
Bright sparks of love
Blocked path
Rejecting love
Fountain of memories
Mirror of time
Unhappiness
Reversed Four of Cups Meanings in Keywords
New possibilities
Clarity and love
Letting go of the past
Smiling
Fountain of change