The Hermit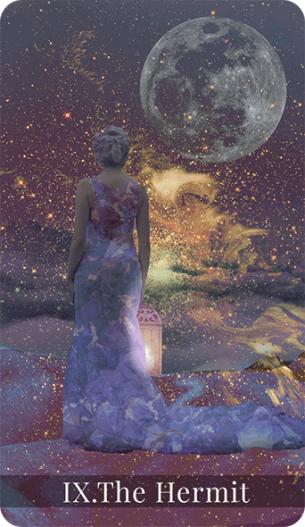 The Hermit card is often very much underestimated. He's the underdog of the tarot that when viewed invokes a reaction from readers and querents alike. Often he is not welcome and that's just sad.
The Hermit doesn't hide from people; he merely likes to live life on his own terms. He has chosen to retreat into solitude above all of the madness of society. He beckons you to turn your view inward and allow yourself the time and space to think, feel, and meditate on what it is that you truly want in and from your life. By doing this you will be able to unlock your true desires and find complete happiness.
The Hermit looks to be standing on his own surrounded by nothing and holding only a lamp. Look more closely at the card and you will note that he is standing on top of the mountains. These are the very same mountains that symbolize monetary issues or stability in the Rider-Waite deck. His lantern is not to guide his own way, for he's already where he wants to be. It is there to guide you to him or to his location. Now is a time to advance past trivialities in your life and focus on what really matters. It is not a damning card indicating seclusion, but rather a hopeful card showing you that there is a way to find solutions to your answers if you know the right questions to ask.
The Hermit card in your reading sometimes shows that there is a need for healing and understanding in your life. It is a very personal and spiritual card that shows you that you are not alone right now even if you feel that way. If you are going through a time of loss, feeling insecure or incomplete now is the time to embrace those feelings not as negative aspects but as empowering life-affirming experiences. It is easy to feel abandoned at certain times in one's life as people can be let down by expectations placed on others, society, or the world. Consider who has let you down or disappointed you and left you feeling as you are.
Do not wallow in this feeling and do not allow it to eat at you. The Hermit has chosen to walk away from it all not for his disdain for mankind, but rather he was seeking answers and understanding through solitude and taking himself away from materialistic possessions. Now is a good time to pick up the book Walden by Ralph Waldo Emerson, grab a cup of tea, and cozy up in your favorite chair and embrace the times that you have when you are on your own. Focus on the own inner quiet of your existence and check in on your true self.
The Hermit in Love
The Hermit may be alone standing atop of the mountain looking down at you, but this does not mean that you must do the same. In fact, the Hermit card is a sign for you to take stock in what you have going on in your life's relationships that are good and revel in them. Rather than focusing on what you WANT now is a time to focus on what you need from love. Knowledge is power and you have the power to get what you want out of life through your relationships.
Since the Hermit card represents focusing on the positive aspects of your life, it may show up in your love reading as a suggestion to stop trying too hard. In a relationship that is rocky for example, the Hermit often advises to take a step back and allow arguments or disputes between two people to die down and to focus on what you brought you together in the first place. Allow yourself to go back to the basics of love and feel them again in retrospect. It is likely that you will find that the arguments in your relationship are not the root of the problem. Often there are outside issues that destroy our relationships such as work stress and finances. Put those issues aside for the time being and focus on the true connection between the two of you.
If you are looking for love and this card comes up it can have one of two meanings. The first is a representation of your lonely feeling by not being in a relationship. The other is a representation of needing to take a break from your search and focus on yourself for a while and allow for love to find its way to you. Maybe consider taking a break from dating and take up a hobby. Find things in life that truly satisfy you and through those avenues, you will likely find what you are looking for.
The Hermit in Health
For some true happiness is found simply by following the initial advice of the Hermit card. So many of us are busy day in and day out that worry and stress literally eat us from the inside out. It can be hard to find joy in the simple things as you drive your child to soccer practice after a long day in the office only to get home and cook dinner and finally plop down exhausted wondering where the day has gone. The card in your reading can be a sign that you are doing too much to the extent that you are at risk of health issues and concerns. Exceedingly high levels of stress and pressure can also cause health problems.
Consider taking time for yourself to find your own center and balance. You may want to invest in a low-level fitness program to rejuvenate your mind and body. Daily walks, time to meditate, and time to reflect is important to your mental health at this time. Do not take your own health for granted. You are not expendable.
The Hermit in Work and Wealth
You may find that you are at a point in your life where you question what everything means. Consider that perhaps you really ARE running in circles and getting nowhere and it is time to take a new direction in your life. The hermit is also searching for something and is connected to how we reflect "work"in life. This could be inner searching for self-confidence or in taking a new step career-wise. In essence, this card often appears when we need to be alone to think. The hermit could in some cases represent unemployment or self-employment for a period of time - in order to reflect what you REALLY wish to do in life.
Money can certainly be the root of all evil if you let it. Consider if you are putting too much focus on money or work at this time. Often this card will come up when a person is feeling desperate to find a job. It's easy to say that money is not important when you have it. When you are out of work and feeling the hurt employers will also see this in your when you go to interview. Focus on thinking about what kind of work you want and a reasonable income that will satisfy your lifestyle without being in excess. Take time daily to close your eyes and see what it is that you need in order to sustain your needs and to be comfortable. Create this image and hold on to it when thinking about money and finances in order to manifest this. As the hermit relates to Virgo which is the 5th house, this represents employment, it might be time to start a new business? But, you have to find your own way with the light.
The Hermit Advice
When seen in an advice reading, drawing the Hermit points to the power of your own decision-making and wisdom. The night may be dark and long, but like the woman on this card, you have the lantern to guide you through it. Now is the time to trust in your own inner power, it is not a moment for consulting mentors or others for guidance. The best way to learn to trust your own wisdom is to take a leap of faith and go for it. Depending on your situation, this may mean pushing forward - but it more often refers to taking time out. Remember the sturdiest homes are built on solid foundations. Lay the groundwork before acting, the results will be more fruitful and longer-lasting. Plus, don't forget this card shows a lantern, not a headtorch, your light can be used to guide others, too. This is the card for the educator seeking enlightenment, and guiding others on their path. 
The Hermit Yes Or No
When looking for a yes or no answer, it can be frustrating to draw a card like The Hermit which does not point with any certainty to one way or the other. However, just because this card is non-definitive, it doesn't mean it lacks guidance. In fact, this card is a big signifier of intelligence and intuition. Reassess your question, perhaps you already have the true answer within you.
The Hermit Past
Seeing The Hermit in the past position signals a previous chapter in your life where you ducked out of the day-to-day bustle and noise, and, instead, spent time meditating and seeking inner knowledge. It may have been a period of self-discovery or research, perhaps you spent time studying for a new skill or qualification. It may simply have been a break in your career or your relationship. Either way, it was your solitude which helped to instill you with the strength and endurance you have today. Be thankful for this time, and remember that you know how to be on your own when the situation calls for it.
The Hermit Present 
When this card appears in relation to the present position it suggests that you are currently on a quest. You're seeking something, it may be to do with your own growth or your general position in life. Like the woman on this card, you look up to the moon and imagine your future. You will see that her dress is ethereal and cloudy, like the night sky, it symbolizes all the possibilities of your future and where it will take you. Remember, this card is all about the power of isolation and independence. Don't let your self-doubt stop you from taking this journey of self-discovery on your own, and don't be swayed by the naysayers out in the chaotic world. By the end of this voyage, you will know more about yourself and your own world view than you ever have before. 
The Hermit Future and Outcome
Drawing The Hermit card in relation to your future and outcome usually points to an epiphany moment soon to come your way. If you are experiencing difficulty in your present, you will find that in your future, you will finally muster the personal strength to change your situation. Perhaps you have already been mulling over this situation, it can sometimes refer to letting go of something that was once dear to you, but now is only causing you pain. Whatever the case, do not stress or resist this moment of enlightenment - when the time comes, you will be ready and you will accept it.
The Hermit Love Reconciliation
As you can see from this card's visual appearance, The Hermit is a Major Arcana concerned with solitude. Not necessarily something you want to see if you're doing a reading relating to love and reconciliation. However, if you are in a loving relationship, this card does not have to indicate the end of that partnership (though of course, it can suggest that) it may simply be reminding you to get some space.
Codependency is all too common, sometimes we lose ourselves and our identity in a relationship. This is counterintuitive as your partner loves you for the unique person you are, not for the way you reflect them. Focus on spending time rediscovering yourself, and if your relationship is on the rocks, now might be the time to move on. 
If you're single, this card suggests that now is not the best time to seek a new partner. You will benefit much more from a period of independence, in fact, it may be crucial to the success of your future relationships. Get to know yourself thoroughly before trying to get to know someone else. It will be worth it in the long run. 
This is a super positive card to get if you are looking to know if love will happen again. The answer is yes, the hermit card can indicate that you both needed space to think. That time was needed in order to ensure that you could properly work out your feelings. Upright it can indicate that you have done your soul searching and that you are reflecting on moving forward. 
Reversed the meaning of getting back together is different. It indicates that you or someone is pushing to get back together and that it is not the right time. Too fast. Too much haste. The advice would be to wait and try again later down the line.
The Hermit As Feelings
When trying to ascertain how another person feels about you, The Hermit suggests warmth and companionship - but not passion. It can also suggest deeply buried feelings or an emotional stuntedness. If you are asking in relation to romantic possibilities, now is probably not the best time to pursue this person. They may think well of you, maybe they are even attracted to you, but they are too lost in their own minds and perceptions to dedicate any time to that right now. Save yourself the heartache by keeping a safe emotional distance. 
This is a feeling of someone withdrawing from you. It can mean they are removing themselves from a situation. Maybe the person is not that interested in you sorry to say. This is normally a card of someone that needs "alone" time in order to think about what they want from life. It can mean this is needed in order to work out their true feelings. It can also mean that this person will not try to contact you - and that it requires time for them to work on their internal emotions. 
The Hermit As Friendship
In a friendship reading The Hermit indicates the power and depth of relationships that can last a long time without being supplemented by continual attention. We all go through periods of extroversion and periods of introversion, right now you should trust that distance doesn't mark the end of your companionship with others. Of course, do not neglect your duty as a friend, but don't push for unnecessary or over-the-top interaction, either. This card is a sign that either you, or one of your friends, is in need of some personal space - this person will want to know their friends are available without feeling obligated to reach out regularly.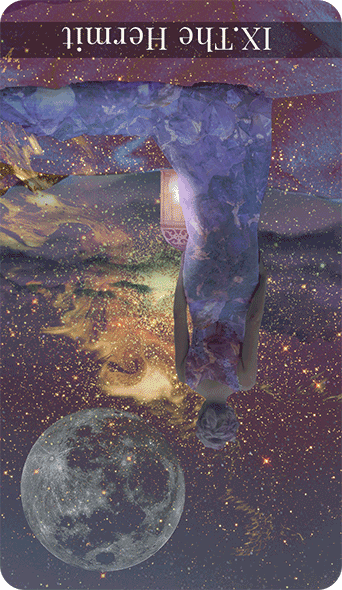 Reversed Hermit in a Reading
The reversed Hermit indicates a dire situation in the extreme; usually representing of someone so far gone off their path that they may be best just wiping their hands clean of a situation and starting over completely. The light of wisdom snuffed out, the path obscured, and hope gone the Hermit is alone and doesn't know where to turn. When this card shows in the reversed position it is very important to look to the other surrounding cards for cues as to which way to go to get out of the current situation. The reversed position can also indicate seeking outside counsel or be turning your introspection to those around you.
The Hermit Reversed - Love and Romance
When reversed, The Hermit can actually suggest that you're on the path to reconciling with an ex or old lover (when seen in a love and romance reading, of course). Perhaps you are coming out of a period of personal solitude, you may have reconnected with your own wants and desires and now feel ready to have another go at a relationship you weren't mature enough for before. Equally, it may be your previous partner who has undergone this transformation. If the moment feels right, you could try extending an olive branch and see where the new connection takes you.
The Hermit Reversed - Family and Home
Seeing The Hermit reversed regarding family and the home usually suggests you have taken your solitude too far. We all need time alone, but, especially within the family, there must be community and shared experience, as well. 
You have an important role to play in your family, you need to support your loved ones and show them your affection (just like they do for you). Don't retreat into yourself entirely, otherwise, when you do reemerge you may find that some of your most important relationships have suffered irreparable damage. This isn't said to scare you, just to gently warn you that personal time must be dispersed with shared family time, too. Don't take your family for granted, they have a lot to offer you - and reciprocation is essential to that process. 
The Hermit Reversed - Work and Finances
In a work and finance reading, The Hermit card is a tell-tale sign that you need to collaborate with others to reach your full potential. If you're struggling financially, look for guidance on budgeting. And if you feel stunted at work, talk to your superiors about a more constructive process for climbing the career ladder. 
While upright The Hermit is all about independence, reversed, and in this context, it is about not being afraid to ask for help when you need it. There are few realms where guidance and mentorship are more beneficial than in work and finances. Ask for help and you'll reap the rewards.
The Hermit Reversed - Health and Wellness
This card reversed in a health and wellness spread can indicate something gone stale. Have you fallen into bad habits, perhaps you're not nourishing yourself like you once were? This card is rarely a sign of anything serious to worry about, instead, you should take it as an indication that you need to freshen things up. 
Try and find balance between things that you enjoy and things that are good for you (don't ever forget it's possible to achieve both). You could try cooking with your partner or exercising with a friend - these things are bound to give both your health and wellness a welcome boost. Take the time to listen to your body, feel it fully and it will tell you what it needs to thrive. 
The Hermit Reversed - Personal Spirituality
When it comes to your personal spirituality, The Hermit points to overindulgence. Yes, a personal spiritual journey often requires inner reflection, but this is not an excuse for being blinkered to the world around you. It's good to expose yourself to the wisdom and experiences of others as this can be spiritually enriching too. Remember that our learning on this earth is never done, so keep your mind and heart open. Be confident, but not arrogant. When you learn to balance reflection and action, solitude, and collaboration, you will find yourself spiritually enlightened. 
Upright Hermit meanings in Keywords
The need for alone time
Turned away from the world
Thinking deeply
Deciding what to do
Coming out of you shell
Mysterious person
Walking alone
Reversed Hermit meanings in Keywords
Reflecting on inner conflict
Feelings as oppose to actions
Withdrawn
Egotistical
Self defining