The Emperor
Emperor Tarot Card Meaning
The Emperor is the counterpart of the Empress, but where the Empress is care free in her abundance, the Emperor is almost strict with his own form of stability and can symbolize many different things depending on the context in which he represents himself.
If you receive this card during a general reading, then the Emperor is going to provide you with a solid, continual energy to benefit your life. He does not leave a lot of room for excess change or random behavior. The Emperor is pragmatic, regal and stately. His energy is full of action and drive, and there is no room for mistakes. This is a card of possession, domination and authority and says that currently in your life you need direction. Often the Emperor will reflect an internal compass, a card that is attempting to show you the way. To be something and to know something is entirely different then being capable of doing something. Embracing the capabilities of the Emperor assists you in understanding this level of authority. Now is a time to trust your own instincts and skills to get a much needed job done. Do not rely on others to complete what you can do yourself. Do not expect that others are going to do as good of a job as you are.
You are in a time of your life that your own limits may be tested and while you are feeling run down or underappreciated you still need to push through. There is no room for error. The Emperor points his glare at you in a reading stating that you also may be pushing others too hard. The message for the card is for you and you alone. You need to be responsible for your actions at this time and reliance on others will likely result in a disaster of some kind.
The depiction of the Emperor on the card is full of metaphorical images that will help you to assist what the role of the Emperor is in your life. He sits in a stone throne that is unyielding but efficient with the Martian ram heads signifying his masculine role with mars. He is forward momentum and drive. How can you focus more on pushing yourself forward? His beard is long, symbolizing his many years full of wisdom. Many comment on his metal shoes. One would ask why he isn't wearing shoes that are more comfortable. The answer is simple, his shoes are an example of authority, of procedure, they are part of his uniform and that symbol is constant and never changing. You will benefit from adding this level of professionalism in your life.
The Emperor encourages us to focus on the reasoning and critically thinking mind. What is feasible and is reasonable is the world that the Emperor lives in. When you receive this card in a reading, the Emperor commands that you get rid of all form of fantasy and fill your head with the facts. Handle your affairs in a systematic way and do not encourage room for error. Anything that you can do to be responsible for the standing in your life is imperative now. The effort you put in at this time will be greatly rewarded.
Emperors are archetypal father figures and symbols of authority. As a leader, he represents action, decisiveness, and leadership. As most fathers do, he wants what's best for his children and will do whatever it takes to protect them. The Emperor, unlike other fathers, does not shy away from showing his softer side. A loving husband and devoted friend, he also cares for his family. Underneath his tough exterior lies a generous and kind heart.  A Tarot card reading with the Emperor will leave you feeling uplifted and motivated to take charge of your life if you're lucky enough to have him in your spread!
The Emperor in Love
In love, the Emperor is symbolic of monogamy, of longevity and consistency. When this card appears in your love spread you can count on being blessed with something stable and dependable coming your way. If you are already in a relationship and you are having problems, the Emperor says that you can depend on the situation to improve and to remain stable at least for the interim. Consider what he has to teach you about being a solid influence in your life and in the lives of others.
This card can be confusing if you are looking for love. For a woman looking for love it will often show an older male coming into her life and instruct her to be open to new possibilities. However, for a male seeking love it tells you that you need to be more forward in your search, be willing to share your feelings, and warns of waiting too long for the right woman. It is likely that you are holding back your feelings to a woman and now is the time to speak up before your opportunity is missed.
The Emperor As Feelings
In terms of feelings, the Emperor is king - he stands proud, a powerful and compassionate figure. If you ask for someone's feelings and it is connected to strength and emotion, respect and understanding are associated with his feelings. As he speaks, his presence fills the air with authority. Listening to others, he experiences their stories like his own, because in his heart there is understanding. A great deal of emotion can be evoked by the Emperor in those around him. Every place he enters is filled with a special kind of feeling generated by his words that convey understanding, assurance, trust, and love. When the Emperor rises for feelings it can indicate that this person feels that you are traditional but have control over a "love" situation.
The Emperor As Love Reconciliation
In asking if someone will get back to you and pull the Emperor, for love reconciliation, then it shows that you want to fly into its wings for safety. He offers wisdom and compassion.
The Emperor in Health
When the Emperor comes up in a reading where health is mentioned, several possibilities present themselves. First, this can be a sign of good health over all, that you are well and will continue to be well. However, if this card comes up reversed regarding health, then you will want to consider the negative effects that being overly routine or constricted is having on your overall health. This could show up in tension headaches or other stress related issues. One can be too authoritarian or too rigid. The Emperor is there to teach you to bring yourself back into balance and to allow the positive influence of stability to come to your aid.
The Emperor in Work and Wealth
The Emperor in business ventures exists to show you the support in your current workplace and to bless you with up and coming possibilities that will add more stability in your life. If you are unsure that you are making the right move in your industry by accepting a promotion, the Emperor says to take the job if it will encourage longevity in the workplace. He also represents a long-term opportunity coming your way financially such as in making money off the sale of a house, inheritance, or cashing in of stocks and bonds. The positive energy in this card is very strong concerning finance and work. The Emperor has worked for what he has and with him in a reading, he brings a deal of luck and fortune through experience and reputation.
The Emperor As An Action/Advice
The Emperor is about making sure that you control what you are doing. Think of yourself  withstanding the raging winds and overcoming obstacles no-one else can. The message here is that if we trust in ourselves and open ourselves up to advice, there will never be a difficulty too great for us to overcome. This tarot card is a message to make sure that you have the strength to overcome anything. It is about taking boldness and courage from the emperor, and your journey shall have no bounds.
The Emperor As Yes Or No
The Emperor in a Yes Or No reading draws a duality that many people find difficult to comprehend. In one aspect, a dichotomy of decisions holds weight - and this is the path of 'Yes', or plunge down into darkness of 'No'? Even so, despite all the complexity, a ray of light shines through: despite its formidable appearance, all roads lead to the same place, and ultimately, decision-making depends on courage. Life often comes down to choices, not just for ourselves but also for those around us - so in a Yes Or No reading he is saying follow your heart with bravery and grace. 
The Emperor As A Person
The Emperor as a person is a gentle soul, wise and kind with a vast knowledge. A leader of great strength and ability, the Emperor had a strong sense of justice and fairness that he applied equally to all. His words were measured, succinct, and inspiring towards those in need. Through compassion and understanding, he viewed the world. It was the Emperor's individualism and commitment to rule by consensus rather than decree that made him unique among rulers. 
The Emperor In the Past Position
In my tarot card above, you can see the emperor embodies great power and radiates strength. His throne is elevated above the masses and his word became law. Every day he sits on top of the throne, surveying the land he dominates over with a gaze that would both humble. Such were the days that an emperor held reign in this ancient past; before modern society whittled such grandeur down to hardly anything more than myth.
he Emperor In the Present Position
As he stands in this current position with a heavy burden of responsibility on his shoulders, it is a strange twist of events that brought the emperor to this point in history. Despite his tendency to reign over grandiose kingdoms, he now relies on the wisdom and guidance of the people to guide him. The only way we can write a future worth dreaming about is to embrace our collective history - a future where the emperor's presence is welcomed and revered as it was centuries ago. Even though we may never know how he arrived here or what secrets lie beneath him, this majestic figure remains an inspiration to your life right now, showing perseverance can overcome even the greatest obstacles.
The Emperor In the Future/Outcome Position
Future worlds will be mysterious and wondrous, with the emperor at the center. His actions will resonate throughout generations, reaching out to souls. A day of darkness will never fall on the realm under his command because he will command such immense power. As a result, all will pay homage to him, thanking him for leading them along the righteous path that only emperors can tread. In the future, he will be omnipotent and justice will be swiftly delivered to those who deserve it. In this infinite universe, the emperor in the future will undoubtedly be a blessing for you going forward. It is a sign that you can overcome any obstacle with his help.
The Emperor As Friendship Or Family
The Emperor begins with a field where two friends and family are called to meet: One of a silver sky and the other of an amber sun. As you rejoice together and share your hearts, they bring forth an honor so pure and fleeting - friends become family. In the same way that brothers, daughters, sisters, and mothers bond, so does this friendship (if you draw the emperor). As they sit at the foot of the Emperor, their newfound family gives birth to dreams, hopes, and memories that will endure for all time.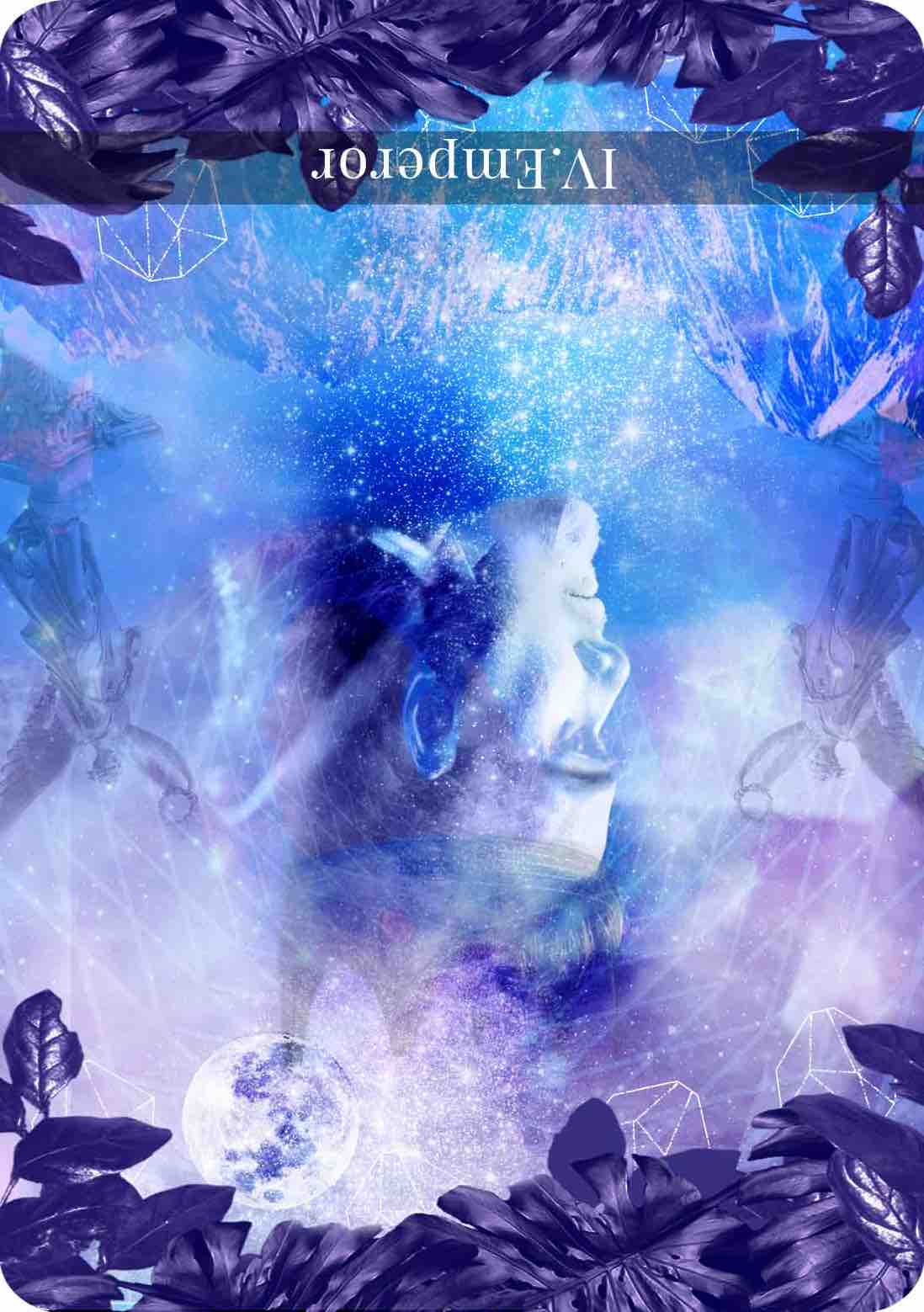 Reversed Emperor In A Reading
When the Emperor appears in a reading in the reversed position, there is a loss of control possible in your near future. Perhaps being overly structured has taken a toll on your existence and you have begun receiving injuries due to this lack of flowing energy. Consider taking some time off so that you may be able to get through the frustrating phase. Pay attention to paperwork and ensure that you have only trustworthy people around you. With the positive energies in the reversed position, the energies that would usually be of an aid to you can actually be a hindrance. You will likely find that you are being overconfident or rude and not knowing it. Especially in a professional sense – the reversed position does not bode well for work and finance. Do what you can to get your finances on track by setting up a budget that is reasonable and workable. Work hours that are conducive. Overworking, overbooking, and being overextended are often serious issues when the Emperor is reversed.
Love And Romance - Emperor Reversed
When the Emperor reversed is involved, romance can turn. As unflinching rulers float wildly in the air like dandelion seeds, they will become unpredictable like dandelion seeds. If you are fortunate enough to be touched by its presence, you know not to take it for granted; the whims of fate may bring it too soon or keep it away too long. There is no doubt that even through upheaval and chaos, there is room to fully express heartfelt emotion without holding back when it comes to love and romance with the Emperor reversed.
Family And Home - Emperor Reversed
Upheaval and change are associated with the Emperor reversed when it comes to your home life. Life seems to flow along in a manner that is certain and reliable when we are strong and steadfast, with our families and homes providing us with comfort and security; however, when the Emperor flips, new ideas flow freely like a river altering the course of our lives through unrestrained inspiration. It can be hard to grapple with life --- sometimes you may feel like you are no longer in control, but this new energy can help us realize our dreams and connect with parts of ourselves that were dormant previously. Our loved ones can provide a harbor in the midst of rough seas, helping us understand this energetic wind that blows through our lives.
Work and Finances - Emperor Reversed
Stability seems to come at a price. Our ambitions for security and prosperity can seem suddenly illusive when the Emperor is reversed. Despite our hard work, we may not be able to provide ourselves with financial comfort, and any successes we achieve will only last a short time. Despite the fact that it's sometimes difficult to accept that money cannot provide all that we need and desire, the Emperor is saying you should seek security in other aspects of our lives instead: family, friends, and even yourself. Despite financial constraints, please remember there is still much joy to be found in moments when we allow ourselves time to reflect on intrinsic values that make life worth living.
Health and Wellness - Emperor Reversed
In the moments when we feel our power is reversed, it may seem simpler to succumb to the weight of our challenges than to overcome them. In order to truly care for ourselves and reclaim our health and wellness, we must train ourselves to meet those challenges head on. Self-empowerment is possible when we eliminate the obstacles that stalemate our wellbeing. We can cultivate thriving self-care and strength through headstrong fortitude in times of unrest. Despite uncertainty and opposition, we can achieve the truest form of health and wellness.
Personal Spirituality - Emperor Reversed
An experience of personal spirituality can often be a difficult and intimidating journey, and when the Emperor Reversed appears in our tarot reading, it is a sign that this journey may initially go in the wrong direction. Traditionally, this reversed card represents stagnation, resistance, and a lack of control over one's own actions. In the end, however, this could be seen as a chance to accept things as they are rather than try to force them. As a result, spiritual awakening is more of an organic process than something that is forced. The idea that everything happens for "a reason" gives us comfort even when it seems we have no control over our destiny - we just have to trust fate to bring us where we are suppose to be.
By Flo Saul
Jul 9, 2012