The King of Wands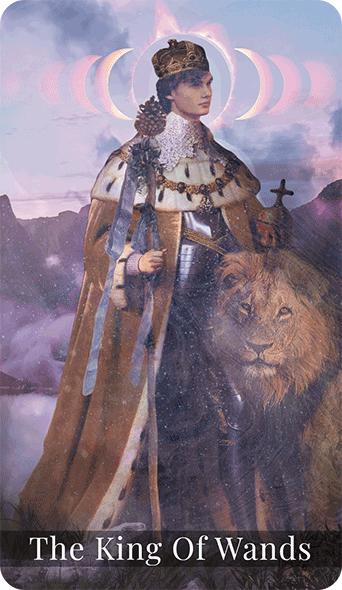 When the King of Wands has visited your reading, you are being reminded to not limit yourself.
It is important to be adaptable and versatile. Now is the time to act spontaneously, give yourself time to be like the Chameleon and change your colors to match your environment. Do not change yourself so much that you lose the connection to your inner self, but allow yourself some change so that you can learn that strength is being flexible and mutable. This card is symbolic of security and strength as well as personal commitment to spiritual growth. The King of Wands is blessing you with a visionary sight, which is energetic and random. Much like taking a course in Improvisational Theater now is the time to act in whatever way brings forth fiery passion from within. No rehearsal necessary. One must develop the sense of intuitive strength and the King of Wands, having mastered this art is here in your reading to help you graduate. Do not hold yourself back. If you have something to say, then say it and if you have been long wondering when you should take that job or take on a creative oriented career, now is an excellent time to do so.
In the Rider-Waite deck, one cannot ignore the presence of this fiery king. Salamanders and Lions surround him, representing the element of fire. Being the Ruler of the Suit of Wands he has the magic of the Magician at his disposal and brings forth the elementals to assist him at any time. The King of Wands is extremely generous and abundant even in his impulsivity; he will help you develop the leadership qualities that you need to move forward in the direction of your desires. This card can at points represent a man, blonde, with blue or hazel eyes usually married. If this is your representative card, then the King of Wands is telling you that you are a courageous, strong, passionate and loyal person who thrives in the traditional ways of life. He exemplifies adventure even in routine. Change while still keeping a level of stability.
He represents healthy, non-destructive growth and he is here to teach you how to honor the change in others, in life and in yourself. Sometimes his character is strong enough that he is capable of dominating others by his willpower so there may be an overbearing person in your life that this card is attempting to represent. If it is representing you then there is a clarity available that speaks to you learning how to believe in your own righteousness. Others will listen because often, you are right. Do not take others for granted; however, make sure to listen in case someone else has an idea better than yours. Life is all about the give and the take and the King of Wands expresses this to you now. You know what is right and what is wrong, and you know how to be naturally honest without being too pressing. The King of Wands is intuitive as well as fiery, introspective as well as funny. He is a vibrant father figure and a helpful spiritual advisor. Perpetuate masterfulness of the creative energy bestowed upon you by this King and you will go far.
The King of Wands reminds you that you have someone in your life that you emulate, someone that taught you what you know or someone that you look up to for having an exceptional sense of inner strength. Seek this person out and ask them for help on how to improve your own sense of self.
The King of Wands in Love
When you are single, the King of Wands is telling you to embrace your own inner strength so that you can be more interesting and vital to the people you are trying to attract. Consider this the time for you to be more forward then you might normally be. The King of Wands says to keep a lookout for someone who is either older or just more experienced with a leadership personality as this would be an excellent match for you. Whatever you have going on in your life right now, he is telling you that you are walking through a transit where you could express more of your more 'wilder' qualities if you would allow yourself to. The improvisational, all-knowing and intensely intuitive nature of this card will push you on your way to having dynamic experiences. Drop the fear and let yourself be free to be who you are, and others will appreciate your presence.
The King of Wands in Health
The King of Wands, when represented in a Health reading, expresses that now is the time to appreciate all that is good and vibrant in your body. You have allowed yourself to become too dormant, either because of pain or a fear of hurting yourself after healing from a disease or an injury. But this is the time for you to embrace the forward motion that is churning up within you. There is no need to worry about injuring yourself further, it is important that you build up your strength again so as to avoid future injuries. Physical activity is an excellent way to get through stressful situations. Take advantage of this transit by getting yourself out to breathe some fresh air.
The King of Wands in Work and Wealth
When your reading is about work and wealth, the King of Wands is on your side to make sure that you get as much abundance as is humanly possible in the moment. He tells you to invest, but to look out for ways that you can randomly make money. Keep in mind this Card's improvisational style. You must be willing to make money at the drop of the hat by participating in random waves of interest and then ride that wave all the way to the end. In work the king of wands represents going for it. He represents that you are not going to sit back and let things fall into place. What is interesting is that this king is the finale of the suit of wands. In work this can mean you are going to achieve everything you desired. This card can also indicate that you may be able to take advice from someone that is experienced. Wands represent ambition, planning, driving and taking responsibility.  In readings, the king of wands also represents a business or self-employment. This card in work, career or business resonates to not give up. If things fail to learn from them and move on.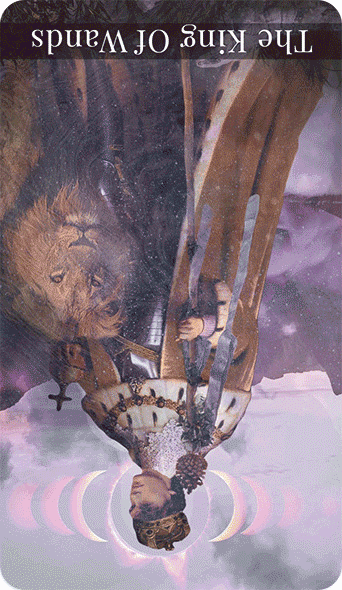 Reversed Meaning - Kings of Wands
The King of Wands only ever comes up in the reversed position when you are waiting too passively for life to happen to you. This is the point in your life where you must reconsider your priorities and commitments and if they are not absolutely bringing you what you want with precision then you must cut ties all together and use the creative power of the King to bring more opportunities your way. Remember that there are those that are not always who they appear to be but you must accept that possibility in all forms of life. Do not allow them to blow you off course. Seek internal guidance through utilizing your intuition and you will go far.
King of Wands Reversed Meaning - Love And Romance
The King of Wands reversed makes him arrogant, doctoral, and insists on his authority in life. This is a fire sign for a man and can suggest that his presence is overbearing. Under this all there is an emperor who can show both vanity, ego, and bluster. There might be someone that is making unwise decisions and this is why he has appeared in the love reversed spread. If you push things too much it can mean you will lose your temper with him. He can sometimes be rather aggressive and does not know the limits.
The King of Wands Card Keywords Upright
Opportunist
Developing projects
Implementing ideas
Boosting creativity
Boosting current skills
Learning new things
Gathering experience
Natural charmer
Attractive appearance
Using self-expression
Sharing thoughts
Exploring options
Setting up goals
The King of Wands Tarot Card Reversed Card Keywords
Leadership
Dominance
Hard decision
Gaining admiration
Gaining respect
Being sympathetic
Hating ordinary
Good reputation
Confronting opponents
Acting courageous
Born to stand out
Loved by many
Riding solo
By Flo Saul
Jul 9, 2012