The King of Pentacles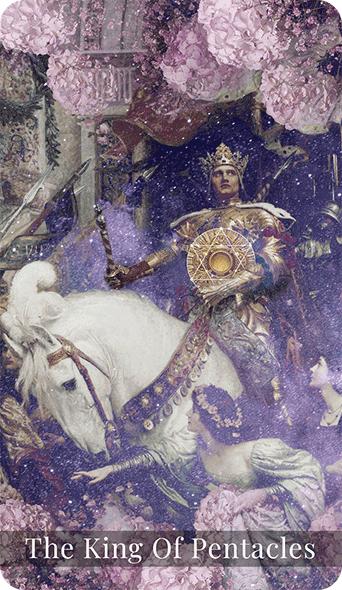 You have traveled the entire Suit of the Pentacles and have reached the place of pure mastery.
The King of Pentacles not only represents all that is abundant, but he controls the very idea of this part of life. He can create money and opportunity out of thin air; he needn't convince himself or others that he is abundant. The universe knows of his power and bends to his will. He is a jolly man, funny, and welcoming. He is one who believes that everyone should be happy and abundant all of the time. When you have received the King of Pentacles in your reading you have a resourceful and dependable spirit. You are watchful with good instincts and you are a good leader. You tend to be ruled by the drive for stability and comfort, and this card is representative of a father and a provider kind of energy.
The image of the King of Pentacles as depicted by the Rider Waite deck shows the King holding a powerful scepter in one hand and in the other he holds his mighty pentacle, both symbolizing his Kingly powers. His robe has grapes emblazoned upon it as well as vines and he is surrounded by flowers, all of which are symbolic of his complete and utter oneness with the Earth and all Earthly energies.
You will have great success when the King of Pentacles blesses your reading because you have become a master of prosperity because you are determined to get far in your life. You have an undeniable desire to protect what is financially necessary. You are a friendly soul who is friendly as well as affectionate and can be of great help to others. Currently you are satisfied with your life and with your great achievements, you are able to slow down and relax as well as enjoy the fruits of your labor.
The King of Pentacles in Love
At this time in your life you are ready for love. You have spent a great amount of time perfecting the art of becoming secure emotionally as well as financially. You have what you need in life to be happy, but now you want to master the next element: that of long term relations with someone else. You no longer have the tolerance for the drama that a younger kind of love would offer, what you want is to be with someone more seasoned, who understands what life is really about. You want to be with someone who is able to love the great and simple pleasures of life. Lucky for you, the King of Pentacles is blessing the transit which you find yourself in. You will be successful in your endeavors. Have faith.
The King of Pentacles in Health
The King of Pentacles is a card of health and security; you are not going to need to be worried about bad health. If you have a concern that something is going wrong in your body, you will find at this time that it is a lot less stressful then you would originally think. If you are feeling an excess of disruption in your life then you will find the King of Pentacles will help you find the stability that you need to push through it. Look for messages from the Universe on dance classes you could take, or certain exercises you could do to re-strengthen your body.
The King of Pentacles in Work and Wealth
You are smart in financial matters because you have an eye for what is and isn't working in the industry. The security of family is of the utmost importance, and now is a good time to be practical as well as generous. This King is a chief of industry, a banker. Usually this card is used to represent a stable married man or even a mathematician who is an amazing investor. Steady in temperament and not quick to anger.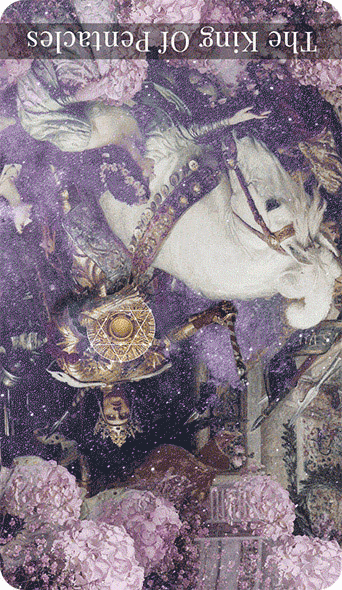 Reversed King of Pentacles in a reading
When the King of Swords has appeared in your reading in the reversed position you must pay attention to the way that you feel when you reach a goal which eventually resulted in failure. There can be a lack of fulfillment or doubt. You feel that there is a psychic danger possible in your future, and you are worried about someone getting in the way of your success. Externally you appear to be successful and wealthy, but inside you are feeling afraid and frustrated. Keep your health in mind; make sure you are taking care of your immune system. Do not get stuck in a cycle of behaving like a hypochondriac. You have the full potential with the King of Pentacles to be as healthy and as abundant as you wish.
Upright
Man over the age of 40
Dark hair and eyes
Finding happiness
Seeing failures as winds
Natural business person
Great sense of humor
Creating masterpieces
Finding happiness
Seeing failures as wins
Natural businessman
Natural businesswoman
Great sense of humor
Creating masterpieces
Sharing success
Sharing Wealth
Being positive
Being thankful
Honest soul
Naïve for love
Well-informed
Educated
Emotional
No self-expression
Reversed
Feeling abused
Underappreciated
Noticing cowards
Noticing abusive people
Questioning intentions
Feeling drained
Feeling exhausted
Changing old habits
Applying changes
Practicing Patience
Practicing calmness
By Flo Saul
Jul 10, 2012