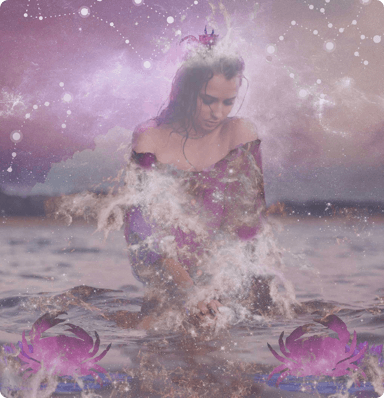 Co-workers will truly seem like friends in the period Venus is moving in your work sphere but that will last only for per week. You will find your work atmosphere very satisfying during this period. Do not forget that people at times think differently than you do. Consequently, you'll find yourself having fun with an old friend. Favourable colors tend to be grey and yellow. Great numbers these days are 2 and 87.
The ringed planet is slowly diminishing its influence in the second house. The metal element who rules your zodiac is weakened in the seventh house. This indicates that you will experience problems regarding your health. Continue taking care of our health and overall wellbeing. You will need your strength to continue with the work of your profession.
(June 21st – July 22nd) The Cancerian person is ruled by their emotions and is highly intuitive people.
Represented by the crab they have hard outer shells to protect their soft and extremely vulnerable insides. This is a very common way to represent the Cancer human. They work very hard to communicate their feelings with others but often find the world to be a hard place to live. Their heart is on their sleeve, constantly, waiting for others to come and help them and to join in their watery, gorgeous world where everyone loves them. Cancers are a cardinal sign which is evident in their desire to not only swim in a sea of emotions, but to also feel that they have a say in how others should or should not experience their own emotions or act in a particular way. These are usually the individuals who want a lot but who have a genuinely hard time vocalizing their wants and needs because of a fear of being too vulnerable and they are the ones who will still somewhat expect for you to treat them in a way that they haven't fully vocalized. However, when given the chance, the Cancerian has a very loyal personality which will make them want to help you get through anything that you need. They are passionate listeners as well as sympathetic.
At one moment they may be stuck in a pit of self-loathing and then the next day be back to their normal, helpful self. Cancer is ruled by the moon and water is the element which rules this sign on so their emotions are sometimes compared to that of the flowing tides of the ocean. There are powerful forces behind the tides of the Cancer, they tend to have the right information to give to others but have a difficult time trusting others. They tend to be the sign which is ultra-complex as well as unpredictable but probably the most kind and sweet person you will ever meet. Those born under the sign of Cancer protect their secrets well, and you have to work really hard to get through their hard shell. Your ability to relate to others as well as your compassionate nature is one of your main strengths in life which will bring you many of your life's successes. You are also able to hold onto money fiercely because sometimes money can represent security to you and that makes your life easier when you know you have a safe haven and a nest egg.
The key word of the Cancer is 'I Feel,' expressing their journey in this life which is to become one with their emotions and to allow those emotions to be free flowing and happy ones which will bring their lives much success. Feeling is how the Cancer understands the world, and this gift is a strengthening tool that can be applied to many different aspects of life.
The part of the body which is ruled by Cancer are the breasts as well as the stomach. Cancers love to enjoy a good meal and sometimes have to fight with gaining weight because of their desire to indulge and enjoy the good things in life. They are also the sign which suffers the most from digestive issues caused by stress.
By Flo Saul
Mar 23, 2012