Whirl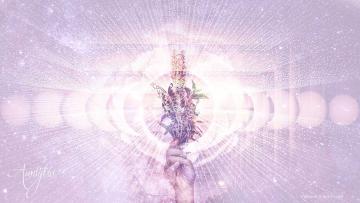 Uncover hidden tea leaf meanings
If we look at a Whirl, we see around circle rather like a twisted line.
The whirl in a tea leaf reading is very similar to the interpretation of a whirlwind. In terms of the symbolism, it very closely follows the tower in the tarot card readings. A whirl suggests that there will be situations that will be difficult in the near future. Many complex undertakings will happen and difficulties around trying to understand what it is you want from life.
The whirl in a symbolic sense is connected to confusion. Have you felt depression in the recent past? The whirl in this sense indicates that situations are taking form. Many different aspects can indicate that difficulties will soon occur, but you will be able to move freely and overcome those difficulties.
In terms of the position of the whirl, we will now look at the three main areas of the teacup and how these are interconnected.
Detailed meaning of the Whirl tea leaf symbol
Top of teacup: the whirl in the top of the teacup position suggests that difficulties and misfortunes are occurring at this very moment. You can overcome this misfortune by understanding others better. It definitely is associated with difficulties in relationships.
Middle of teacup: again, the whirl suggests emotional difficulties in a personal relationship. If in the middle of the teacup it indicates that these are only going to be for the next few months. This is good news. You can overcome difficulties in relationships by understanding people better and having more compassion.
Bottom of the cup: the whirl in the bottom of the teacup position indicates that somebody is going to do something unfavorable. There's going to be difficulties with a relationship and possibly separation.
By Flo Saul
Apr 8, 2013