Sail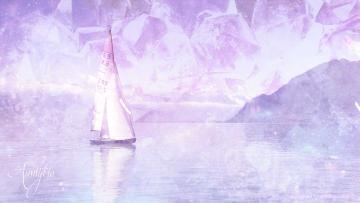 Uncover hidden tea leaf meanings
A Sail refers to a material which is placed on a boat or a ship to propel it. As a symbol, it represents new beginnings.
So if you happen to see a sail in your teacup, it means that you are about to experience something new. Embrace the change as it comes with good tidings, and it will change your life for the better.
Detailed meaning of the sail tea leaf symbol
Top of teacup: if a sail is spotted at the top of the teacup, it means the change is happening now, and it is creating great things in your life. It is high time that you let go the past and embrace this new beginning.
It might be a new beginning for a job; after losing or being frustrated in previous employment, you have just gotten a new appointment. Take it wholeheartedly and make sure to impress the boss so that, he won't have any regrets in life.
If it is a new business, work harder than you worked on the previous one so that you can enjoy the fruits of your labor. In the case of a new relationship, make sure that you cultivate trust from the beginning because that is the strongest foundation to start a relationship on.
Middle of cup: a sail in the middle of the teacup is an indication that, change is about to happen in your life and when it does, make sure you take it on positively. You will have to forgo what you are currently holding onto because this change that is about to happen brings with it good tidings.
You are supposed to let go the past and make sure that you work hard for your level best to make sure that the change happens as soon as possible. It might be a change in your workplace where you will be promoted to a new role; change of jobs; change of business; the change in your financial status; or even change in relationships.
Bottom of teacup: a sail at the bottom of the teacup denotes that, you are not going to experience any new change in your situation anytime soon and thus you have to keep going with your current situation for a very long time.
If you are not comfortable at your place of work, know that change is not on the way and you should just persevere and do your job diligently. If your business is becoming somehow monotonous, you will have to persevere because you don't even have the capital to change to another business. Things happen and don't be shocked with time, you might just be able to change into something great. For now, you will have to content yourself with the situation as it is.
Scattered in the cup: scattered sails in your teacup denotes that, so many changes are happening in your life and will continue happening for an indefinite time. With the new things the changes are bringing into your life, you should be able to improve the lives of those around you so that they too can feel the impact of what is happening in your life.
Conclusion: change is as good as a rest, with anything new happening in your life, it brings with it a fresh breath of life, and you are sure of hitting success with it if handled well.
By Flo Saul
Apr 5, 2013