Precipice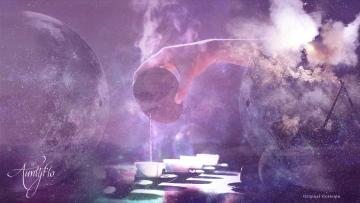 Uncover hidden tea leaf meanings
A sharp declivity is a symbol of danger.
You may lose your position and suffer a downfall unless circumspection and foresight are exercised. Sudden events are in the way to surprise you. A precipice is a steep cliff or face which is very tall. As a symbol, a precipice denotes the fear of falling, anxiety, or feelings of insecurity; difficult in your life.
So if you happen to see a precipice in your teacup during the tea leaf reading, it means that your life is full of fears.
These fears are "roadblocks" affecting you and haltering progress. You feel insecure to even venture into new business, and you cannot attract positive energy - you are essentially blocked. Try some unblocking spells to release your positive energy.
Detailed meaning of the Precipice tea leaf symbol
Top of teacup: a precipice on top of the teacup is an indication that, your feeling of insecurity has made life come to a standstill and you are unable to progress in your life goals. You have to work hard to overcome these goals because that is the only way you can see changes in your life.
You need to overcome all the difficulties that are being encountered in your life and move forward. Get to know what you have to do in order to reclaim back your loved ones, your job, your businesses, or even your finances; that is the only way you will feel secure.
Middle of cup: a precipice in the middle of the tea cup is an indication that, you are about to be insecure due to the fact that, your love, businesses, job, and even your finances, are about to dwindle and expose you to what you have been fighting all of your life to evade; poverty.
It will be hard for you to feel secure. This is the time to fight back and make sure that it doesn't come to pass. You can achieve this by making sure that you work extra hard to boost your love, business, and even recognition at your place of work so that you don't lose that job.
Bottom of teacup: a precipice at the bottom of the teacup means that your life is free from insecurities due to the fact that, you have invested well when it comes to love, businesses, and even your workplace. You are not afraid of external forces unseating you because the foundation you laid was strong.
Continue investing more in the things that matter to you, and you will never be afraid of any circumstances in life.
Scattered in the cup: a scattered precipice is an indication that, your life is full of fear and insecurities because of lack of investment in the foundations of those things that matter a lot in life. What you need to at the moment is make sure that you re-plan your goals and re-invest a fresh to make sure that you have a strong foundation. Once this is done, you will never worry about anything shaking your otherwise strong foundation.
Conclusion: fear and insecurity are some of the things which make people not to progress in life. Make sure that they don't exist in your life in order to experience success.
By Flo Saul
Apr 5, 2013