Beetle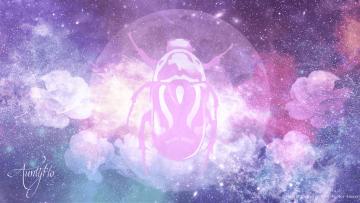 Uncover hidden tea leaf meanings
A beetle indicates there is some domestic problems in your current situation.
If you notice more than one beetle this is directly associated with slander. Have you been involved in a battle? Alternatively an emotional people between two people that you now? This symbol suggests that you are battling between relationships and the feelings of others. If you pay attention to how you feel inside this will give you advice on how to handle this situation. There is a risk of possible gossip that will upset you greatly.
In your teacup you may have:
Seen more than one beetle.
Seen dots around the beetle.
Could see a swarm of beetle.
Observed a large or small beetle.
Meaning of a beetle positioned in your teacup:
Top of teacup: beetles situated at the top of your teacup are associated with gossip. Have two people in gossiping about you? In this position it suggests that there is accumulation and order and can symbolise slander. There is a risk of abuse by someone such as your friends.
Middle of teacup: for this beetle to be present at the handle of the teacup is an indication that there is an existing problem that needs to be sorted out.
Bottom of teacup: this position means you are lingering too long about a decision. It also suggests that a strange feeling sometimes comes over you. Your obstacles are on the way of progress. You are going to have an invitation, whether this comes from friends, family or alternatively yourself, if your struggling to identify your goals it suggests your current requirements need even more effort. It may also suggest that you need to stop what you are doing and consider taking a different route towards your ultimate desires.
More than one beetle: traditionally more than one beetle is associated with the amount of people that are involved in your job. The advice is that you must stay clear to your overall goals and if you do so, material and spiritual wealth will be yours! Make sure you don't let people determine your overarching desires. Everybody in life has a path and you are the only one that can clearly see which way you should be pointing. This symbol is prompting you to look at things from a different perspective - remember those people around as can help you as well as harm you.
By Flo Saul
Oct 20, 2012