Bee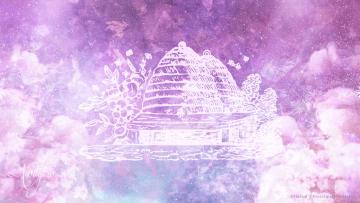 Uncover hidden tea leaf meanings
Because of their life cycle, a bee in your teacup is traditionally associated with hard work and reaping awards.
There is a focus on success at the end of a long road. Positively, to see a bee is a symbol of hard work resulting in happiness. Perhaps seeing this symbol is associated  with how we portray ourselves in the company of others. In this context, the emotions that you can feel may give a clue to the detail about this particular area of your life.
Bees are powerful, not only because they give of a terrible sting, they also play an important role in making honey.
Each bee you see in your teacup is an accumulation of material wealth, within your life. Ancient tea leaf readings often suggest that the bee is associated with home and it is connected with spiritual progress. The reason is because the Bee's are associated with hard work and emotional development.
In your teacup you may have:
Seen more than one bee.
Seen dots around the bee.
Could see a swarm of bee's
Observed a large or small bee.
Meaning of a bee positioned in your teacup:
Top of teacup: play particular attention to how other people perceive you if the bee is featured at the top of the teacup. You must be aware of any opponents in your way of achievement. You should be able to identify with those around you, in order to progress yourself in the future.
Bottom of teacup: to see a bottom of the teacup is a symbol of purification. If the associated with preparing yourself for a new day stop placed at the bottom may symbolise the shadow side of personality situation that has become sour for staff ease in your dream in front in you to take more action towards working harder. It is also connected with how you are seeing other people's viewpoints. Perhaps you have not been seeing other people's perspective in a work situation. There is a danger that you can turn your back on hard work and what is important to you. This creates difficulties in relationships because you will be on the wrong path. The advice is to not look back and don't run away from potential problems.
Large bee: for a bee to appear larger than other symbols in your teacup suggests you are going to have lot's of order in the future. It can symbolise either material or spiritual wealth. As a bee generally has a harmful sting this demonstrates that you need focus.
Broken lines: if the lines are broken that form the bee, you are feeling that things are slipping away and that you have had some trouble or conflict with other people. This has been caused by you being amazed by your own emotions. As we have previously noted, bees signify hard work and they denote that this hard work will be necessary in order to prepare for a relationship. This can also suggest a fear of exposing your inner feelings to other people. Have you been feeling rejected lately?
More than one bee: to see a succession of bees is an indication that you have been feeling rejected and lonely and you want people to pay you the attention that you feel you deserve.
Bees and ants represented by tea-leaves would have much the same meaning. They are both endowed with great sagacity. Both insects form themselves into a kind of republic, observing their own peculiar laws and even politics.
The ant shows frugality. The bee industry. Both indicate sagacity
If a bee is seen on the handle of the cup, look for some excitement at the house—probably an assembly of people, social intercourse.
At the bottom of the cup, domestic upset, heaps of work, and muddle.
At the top, a visit to a place of amusement or large gathering either for intellectual or social relaxation. A rise in life through industry.
By Flo Saul
Oct 20, 2012