Kitchen Magick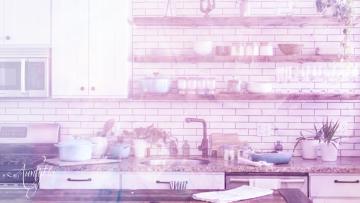 Uncover hidden spiritual meanings
The practice of being a witch in the kitchen.
Often this is the first step to finding ones path to the craft which is enabled by the herbs and cooking primarily done in the kitchen.
Someone that does not have the space to have a full working circle but rather practices magic in the kitchen or on low-budget. The kitchen and herbs are both interchangeable terms with "kitchen witch" being more popular in America and 'hedge witch' being more of a British term.
Both work with things that are handy in the house and can but are not necessarily Wiccan. They can be both or neither. Many kitchen witches understand the ways of magic and use it in their daily lives but are more solitary practitioners with their own beliefs rather than a dogmatic religious structure of the craft.
There are many kitchen witches out there. This is often seen as a tradition which is focused on practical and personal power. When we discussed kitchen witches we are associating baking and cooking with witchcraft and magic. This will include creating baked goods that contain certain herbs and spices in order to apply magical traditional path.
Practicing kitchen Magic means that you have the opportunity to create something. In many traditions throughout history, the kitchen is the place of honor for most witches. today, the kitchen is used more social recreation as opposed to the functional use the kitchen in ancient times.
Children carry out their homework on the kitchen table, families sit around the table to eat dinner together and generally most people gravitate towards the kitchen.
There is a strong magical sense in an enchanted kitchen. Many witches the kitchen is the most practical place to carry out magic. This is because herbs and spices are at hand and many magical practices can be carried out. We have an extensive list of herbs within the herbal section dictionary. You will be surprised the vast amount of kitchen spices, cooking herbs and seasonings. Many personalised rituals and spells can be carried out in the kitchen.
That's for now have a quick look at the most common herbs and spices found in the kitchen and how these can help you in life.
Basil: this is a popular herb which is linked to prosperity and great luck in all areas of life.
Allspice: this herb used to draw money and also luck.
Bay leaf: the bay leaf again, is a popular herb that is associated with good health and strength. It can also offer protection and purification in many rituals.
Chives: this is used to protect against any bad and negative situations people.
Cinnamon: this is a fantastic herb that is associated with bringing luck into the home.
Cloves: this protects against any adverse situation and stopped gossip.
Dill: is associated with fighting away unnecessary problems, protection and also security in money is associated with this herb.
Garlic: are fantastic to keep within the kitchen it is generally used as a sign of protection.
Ginger: associated with good luck and prosperity in life.
Lemon:lemon helps with any negativity and also provide healing.
Mace: mace is connected to psychic powers and helps people become stronger.
Mint: fantastic herb to grow in the garden and offers not only protection but also prosperity.
Mustard seed: this is associated with fertility, energy and also prosperity.
Orange rind: oranges provide energy and vitality in life. Good health is also associated with oranges.
Parsley: this is associated with vitality and protection. Parsley is a great herb to use if you are looking to purify yourself after any magical conduct.
Peppermint extract: Peppermint has long been associated with purification and also protection.
Rosemary: the most fantastic smell of roses indicates love and passion.
Stage: this herb is connected to wisdom and also helping build a brighter tomorrow.
Thyme: this herb promotes great health and helps people sleep better.
Vanilla extract: vanilla is associated with mental powers and force of life.
The kitchen nowadays is focused on being the center in any bodies home. It is suggested that the kitchen cupboard should be cleansed. This means clearing out any clutter or bad food and then arranging a few magical products such as candles or crystals and popping them into the cupboard. Even having candles burned in the kitchen is important. For now, let's look at kitchen magic charms.
Kitchen charm creation
Having a charm within the kitchen can draw in the best energies and help one's life. Here is a quick charm that can be created in any kitchen. This is an all-purpose charm. Ensure you have a mojo bag which is made of fabric, A mojo bag is a magical small bag will hold herbs and also oils. Put the following into the mojo bag.
a spring of parsley in order to protect oneself.
a clove of garlic.
dill seeds
allspice
Take these herbs and pop them into boiling water and let this warm on the stove. Ensure that the herbal scent is within the air of the home. If you want to add in some cinnamon for prosperity then this would be a good time. While it is boiling on the stove. The combination within this bag helps protect the home kitchen from any negativity. after putting the above into the mojo bag say the following:
"Beautiful kitchen herbs, the colors of brown and also green.
This sparrow will be simpler than one seems.
These herbs are added for happiness magic true.
Come to my aid Goddess and protect everything that I do.">
Once you have created the mojo bag put this into one of your kitchen cupboards in the corner. The other area that we need to cover is tea lights within the kitchen. Tea light candles are widely available and they are cheap. Many people rely on tea lights because they are so small and are great for burning. tea lights are used widely for herbal candle smells.
Typically, they burn for around four hours and a white. this is important because white is generally a color that is considered all-purpose in a magical sense. Therefore, if you wish to do a spell and do not have the correct color candle white candle will suffice.
To make sure that the candle is scented a drop of essential oil can be used. This can be associated with much contention, you may wish to use things like clove oil for protection or cinnamon oil for prosperity for example. Other uses such as orange oil can help if you wish to heal yourself.
Here are a few more spells that can be undertaken in the kitchen.
Removing negativity - kitchen spell
To remove any bad or negative feelings or vibrations with the home take a very tiny glass bowl or dish or even coffee cup and sprinkle salt at the bottom. Next, get a lemon and squeeze this into the salt and say the following:
"Lemon, lemon mix with the pure salt. Mix by three.
Make sure no negativity clings or hangs on me.
Make sure any negative vibes or despair is removed forever in the air." 
This is a great spell to remove negativity and make sure that the bowl glasses positions in an area where many people walk such as the centre of the kitchen table.
Wealth drawing spell
Get a teaspoon of cinnamon, one spoon of allspice and half a cup of honey to sweeten up your life.
Mix these three ingredients together and while doing so say the following:
"Sugar, spice, and everything nice.
ensure prosperity reaches me well.
The power is now in this spell."
Following on from chanting these words, make sure you place the cup includes all these ingredients within the corner of a cupboard. Under the sink would be the ideal position because the water is associated with purification.
Garlic spell
Garlic should be hung from the window in order to protect or keep away any negative spirits. If you are encountering a number of difficult issues or problems with people in life then the garlic should be made into a charm bag. This is quite easy to carry out and requires 6 inches of ribbon. Put the clove in a black velvet bag and tie this with the black ribbon. This will break away any bad vibrations within the house. Put this into a glass and add 1 inch of salt. Then place bag in corner of kitchen.
By Flo Saul
Oct 2, 2012