Saint Rita of Cascia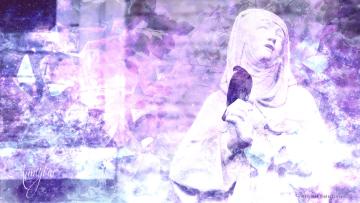 Uncover Hidden Saints meanings
Saint Rita of Cascia was born in 1381 in Italy. She got married while still young and experienced serious marital problems with the husband has he used to abuse her on regular basis. However she swallowed the abuses and the married manage to last for eighteen years and played the role of a Christian wife and mother who seek the lord's intervention in the change of her husband's behaviors. However, she was to end up a widow as the husband was killed by a rival family. She persuaded her sons who were really angered by the incident from revenging.
There a common legend that highlight how she was brought to the convent by three popular saints namely St. Augustine, St. John and St. Nicholas, this resulted to her joining the Augustinian religious sisters who served the community. She has various powers and has been said to have performed numerous miracles. Artists have for a long time depicted the saint as bleeding from a wound in her forehead. 
The Roman Catholic Church canonized Rita through Pope Leo XIII in 24th May 1900
Requesting Petitions For The Following:            
Abuse in a relationship.
Loneliness.
Tumors.
Love.
Feast: 22-May
Day: Sunday
Candle/Emblem: White. Wound on forehead.
Matters Concerning: Abusive relationships, healing wounds, loneliness, and tumors. Patroness of hopeless cases.
The Legacy Of Saint Rita
During the twentieth century, a big sanctuary was erected in Cascia. This sanctuary and the birthplace have been observed pilgrimage sites n Umbria for quite a long time now. In addition to this, women have always been seeking her intercession when abused from the gender perspective.
Saint Rita at one time gave reliable advice regarding the grandmother to a famous singer from France, Mireille Mathieu and this consequently resulted in her adoption as the patron saint for Mireille. However, the singer disclosed that quite a number of the predictions turned untrue. On the overall, she really trusted the Saints intervention in her life.
A film released in was released in 2004 based on the stories that were being said about the saint back in the 14th century in Italy. The film was shooting in the Italian city of Florence and gave a good view on the life to the modern audience.
In baseball, she is considered an informal saint, this results from a film that made reference to her in year 2002.
The Symbols For The Saint
While living in the convent, it is said that a thorn that left a deep wound on her forehead fell form a statue of Jesus during crucifixion. This wound was stinking to the extent other nuns in the convent kept away from her, it is believed that the wound resulted in her death some time later. However, it is said that after dying the odor changed to a sweet scent similar to that of flowers.
In another story, it is argued that while she was so ill and bedridden, a visiting cousin asked her what she would like to get from her ex home and she proposed a fig and rose. As it was January, the cousin did not expect any in the garden but jus wanted to confirm. On reaching there she found a single fig and flower that she brought to her.
In a Belgium parish, a statue of the saint features several bees. This has been associated with her baptism in which bees surrounded her as she slept on a crib without causing any harm.
By Flo Saul
Aug 17, 2012