Saint Maria Goretti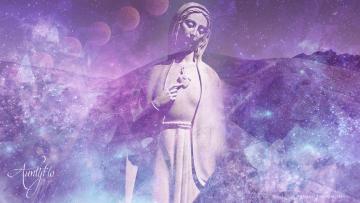 Uncover Hidden Saints meanings
Maria Teresa Goretti was born on 16th October 1980 in Italy.
When she was just six years old, the family was impoverished to the extent they would work in people's farms to get income. Around that time, her mother died of Malaria and she had to take care of her younger sister. However, the family had always hoped and trusted in the lord. They then moved to another place in which they shared a house with another family. Then some time in 1902, a man named Alessandro Serenelli came to their house and threatened to kill her if she could submit to him sexually. It is said that the man raped her and thereafter stabbed her to death.
Requesting petitions for the following:            
Having a baby in a marriage.
Abuse in a relationship.
Better relationships.
Fertility.
Feast: 6-Jul.
Day: Friday.
Candle/Emblem: Pink.
Matters Concerning; Concerning fidelity in marriage and abusive relationships.
The canonization and beatification of Maria Teresa Goretti
Maria Teresa Goretti  is among the youngest saints in history. Some few decades after her killing Pope Pius XII canonized her as  a saint, that was on 24th  June 1950, since the, she has better been identified as the 20th century Saint Agnes.
The mother to Maria Teressa, Assunta, was present during the canonization ceremony with the rest of Assunta's siblings, ther have been claims that Assunta was the first parent to attend a child's canonization ceremony.
This has been made questionable since there are claims that, in the seventeenth century the mother to Luigi Gonzag did attend his canonization ceremony. The man who killed her, Allessandro serenelli also attended the canonization ceremony.
As there was quite a large turn up for the canonization, the corresponding ceremonies were carried outside the Saint Peter's Basilica. Pope Pius XII this time spoke in Italian and not in Latin as is the formality for such events, in speech; he introduced Maria Gomerri into a Saint.
This was a landmark event in which an estimated more than  half a million people attended, a large number being the youths who were from all parts of the world. They agreed to stand firm in the name of the lord despite any attempts to deviate them.
Here siblings claimed that she had intervened in their lives miraculously. One of them, Angelo claimed to have heard her asking him to move out of Italy to America.  Another one, Sandrino is said to have been miraculously funded to move and join his brother Angelo in America. 
Sandrino is said to have died while in the US in 1917 while Angelo died on returning back home in 1964. Mariano, another brother worked for the military and claimed that she asked him to stay in a trench while his unit encountered the Germans during the First World War. He was the only survivor during the charge on Germans that day and lived up to 1975.
The remains of Maria Gorretti are being stored in a statue below the altar in a basilica in Italy. In drawings, artists depict her as young and wearing a white dress over her farmer attires and in her hands, she has a bouquet of Lilly flowers.
By Flo Saul
Aug 17, 2012