Saint Cecilia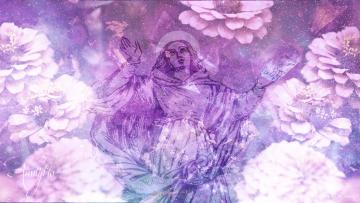 Uncover Hidden Saints meanings
During the 4th century there was a religious romance story that was founded on two lovebird named Cecilia and Valerian. This story was written down like those of other two pairs of lovebirds namely Chrysanthus and Daria as well Julian and Basilissa as it glorified virginal life while intending to replace other love stories namely Chereas and Callirhoe, Daphnis and Chloe and many others, romance stories were highly popular among the Greeks in those days. There story has a logical background but the ancient calendars have no made an inclusion of Cecilia. 
Requesting petitions for the following:            
Success for artists.
Feast: 22-Nov
Day: Wednesday
Candle/Emblem: Green and the organ
Matters Concerning: Success for composers, poets, singers, and organ makers and patroness of those also.
The beauty and merit of Saint Cecilia
The story of Saint Cecilia has a lot of merit and beauty. Virgin Cecilia is said top have lived in Rome City, the virgin Cecilia was scheduled to marry a young man. To Cecilia, virginity was very important and she had to do all the best to guard her virginity, she fasted, wore sackcloth and held various prayers asking the saints to intervene and secure her virginity.
She went ahead to caution her proposed husband that she will not lose her virginity as it mattered a lot. Further, he claimed that her virginity was being guarded by holy angels.
She later on convinced him to get baptism from Pope Urban. When he returned, he found Cecilia in Prayers. By her side was an angel with roses and lilies in her hands and with glowing wings, the angel then placed the flowers on their heads and thereafter disappeared.
The flower were glowing to an extent they amazed Valerian's (Cecilia's brother) brother Tiberius when he came in. On being told where the flowers originated from, Tiberian decided to get baptized. The story then goes that afterwards, they got actively7 involved in the burial of the believers who were being slain in the city. On being discovered, they were summoned before the authorities and executed by use a sword.
Saint Cecilia became an active evangelist afterwards and convinced 400 persons to get baptized by Pope Urban. This really alarmed the city authorities who decided and arrested her thereafter condemning her consequently suffocated in a water bath.
They shut her up in the bath and heated the water so that she could boil up, to their astonishment; she was not affected at all. On realizing she did die as he wanted, the city prefect ordered an executioner to behead her right in the birth; however, she bled for three days without dying.
It is then argued that the crowds came to collect her blood and during the time she preached to them during the time. Her burial was done by Pope and deacons.The reigning emperor during the era of Pope Urban has been said to be sluggish in dealing with the case of persecution of Christians but the relevant authorities have argued that all the executions were carried out within the law.
The church of Saint Cecilia was rebuilt in 1599 by Cardinal Paul Emilius Sfondrati who was a nephew to Pope Gregory XIV.
By Flo Saul
Aug 17, 2012