Our Lady of the Miraculous Medal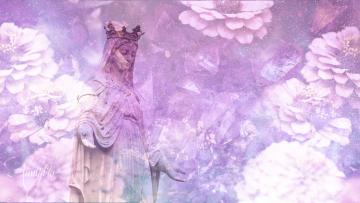 Uncover Hidden Saints meanings
The origin is in France in a village named Fain-les-moutiers. The story begins with Catherine who was born on 2nd may 1806. She was form a middle class family and of which 11 out of the 16 children died. Her father, Monsieur Laboure has some religious background in which he trained as seminary earlier on but dropped out on claims that it was not religious, this allowed him some time to concentrate on running the family affairs fluently.
Requesting petitions for the following:
Protection for bad habits.
Averting danger.
Help to feel healthy.
Feast: 27-Nov
Day: Wednesday
Candle/ Emblem: Blue and White
Matters concerning: Breaking bad habits, averting danger, health, and special favors
Her father was a dedicated Roman Catholic. Her mother was a teacher and provided all her children with an adequate education with the exception of Catherine.  She just decided to get basic life skills and knowledge from her mother. Her name was Zoe but she later on came to change it to Catherine. Her mother died when she was only nine and this resulted to her and her sister being sent out to live with an aunt.
She had a sister who was named Louise and used to take care of their home, but when she was just thirteen, her sister joined the Sisters of Charity vocation and her father brought them back home to carry out her former responsibilities.
Catherine was challenged when carrying out the domestic chores since she was just thirteen by then. She had to manage the whole estate and this gave her an adequate preparation for the tasks a head of her. Zoe was always keen not to miss attending church all the times despite all the responsibilities at home.
Zoe's dream   
When Zoe was eighteen years old, she had a unique dream that was hard to interpret until some years later. She dreamt being the local chapel assisting during a mass led by an unfamiliar old priest. He kept looking at her as he preached out to the crowd, and she would respond by looking down.
On completing the mass the elderly priest asked her to follow him but she was too frightened and opted to running away but to her surprise she would still see the priest by her side as she ran. While running in the dream, she decided to pay a visit to some sick woman in her village, however, on getting into the sick woman's house, she encountered the man again and this really scared her.
The pries told her it is good to visit the sick but either way she runs from him, she will still come back to him. Further, he reminded her that the lord has plans for her. Then she woke up.
She later on decided to join the church service through a convent but her lack of adequate education was a major stumbling block. She also had to seek her father's approval prior to but it was really hard as the father wanted her married.
She however went on with her plans but had to get some informal training as she could not get direct admission due to her inadequate education. She was assisted by friend called Sister Sejole. She was the convent assistant and knew so well about it that she trained her to perfection. She was accepted into Sisters of Charity in 1830.
On arrival at the rue du Ba, she had strange experiences with the first on being during the movement of the body of St. Vincent de Paul from the sisters chapel to the priests chapel. During a solemn novena in honor of the dead priest, she had visions about him.
His hearth appeared with various colors every evening; also, she has visions of Our Lord in the Blessed Sacrament that occurred thought her noviate. On 18th July 1830, she was awaken by a figure the size of a five year old which told her the Mother Of God was in the chapel waiting for her.
She headed to the chapel with the child with the whole place lit fully. On reaching the chapel she was astonished to meet with an angel who paved way for the appearance of the holy mother. She revealed the future of the world to her as she wrote, this prophesy was fulfilled.   
On 27th November, 1830, while praying in the chapel, the Holy Mother gave out the miraculous medal to Catherine. This medal has three phases that is; three images. One that has a lady holding out her hands, the image on the reverse of the medal and the m on the cross that has got two hearths and twelve stars.
By Flo Saul
Aug 17, 2012