Rosemary leaves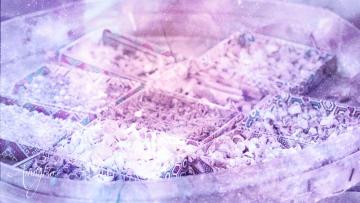 Uncover Hidden Herbs meanings
Rosemary's official name is Rosmarinus officinalis.
It is a perennial herb that has evergreen, needle shaped leaves. It has brightly coloured flowers, usually pink, red on yellow.  The flowers are thought to have originated in the Mediterranean region. It is one of the many members of from the mint family better known as Lamiaceae.
Rosemary belongs to genus Rosmarinus which has only two species. The origin of the name Rosemary is traced back to Latin where it can be translated to simply, mean "dew of the sea".
The name came about due to the fact that the flower does not need any water to grow but rather just the humidity in the atmosphere to survive. In a Greek legend, it is said to have been draped around their goddess known as Aphrodite as she was rising from the sea, she is said to have been born of Ouranos semen.
In a Christian story, it is said the, Mary the mother of Jesus at one time covered a white Rosemary bush with her cloak as she lay to rest, from that day, the flowers turned blue. The shrub was then named, "Rose of Mary"
Rosemary leaves will help to
Improve memory.
Digest food.
Protect the home. (women only)
Dominate marriage. (women only)
Medical uses

It is used to improve memory and has always been used as a symbol of remembrance. On the other hand, it is a nutritive additive to various types of food including tuna, chicken, salmon, lamb, and pork. Adding Rosemary to sauces and soups gives them more flavour and this makes them sweeter. It also helps in digestion of the food.
Magical uses

Rosemary leaves are a powerful herb used by women in various circumstances that include protecting their homes and families, warding off the devil and attracting good luck to the family members. It will effectively ward off evil if planted near the doorstep. A woman will gain dominance in her marriage if she walks around with Angelica and Rosemary roots.
By Flo Saul
Aug 29, 2012