Alina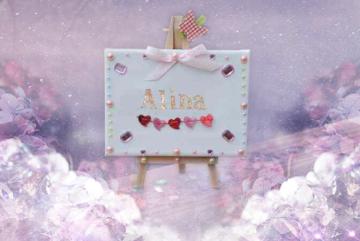 What does the name Alina mean?
The name Alina is of Celtic origins. It indicates 'fair' and independence.
What does the name Alina mean?
Alina is a shortening on the name Adelina (English, French, Italian, Portuguese, Speaking Spanish, and Polish) from the English and French languages or a variant of the name Adela (English, The german language, Polish, Czech, Romanian, and Spanish) from the English and French languages.
Alina is a shortening on the name Adelina from the English and French languages. Alina is also a variant on the name Aline (English, French, Armenian, Russian, Irish, and Scottish) from the English language. Notice also the associated form, the german language, and English Alinda.
Alina is associated with being independent. The name is connected to feeling free in life, and in Armenia for instance the name means a beacon of light. 
What does Alina mean in numerology?
The name is the start and end beginning with "a" it can mean that you need to be connected to people in life. Alina's are known as being affectionate and charming. In love, Alina's enjoy intimate settings, but they also have full control of their lives. Alina's are caring and nurturing towards others. They know how to make others love them and how to get people to like you. Alina don't they don't lose their heads in the moment. They are strict and controlled.
Alina's prefer to be in charge of their career and work alone or with a small team. They need to have the ability to utilize their creativity to the maximum extent and to find new ground to explore in order to fulfill their pioneering spirit. They are free spirit due to the fact that the name begins with Ali. It represents All to everyone and that they prefer to be independent.
What is the quick name meaning for Alina?
Origin: Celtic
Quick Meaning: Fair
Number of letters: 5, Those 5 letters total to 19
Gender: Girl
What are the positive traits of Alina?
Born leader
Hard worker
Good at studying for exams
Sensitive
Good with people and likes peace and quite
What are the negative traits of Alina?
Has a big ego
Does not listen to others
Always wants to be in charge
By Flo Saul
Sep 20, 2012