White Carnation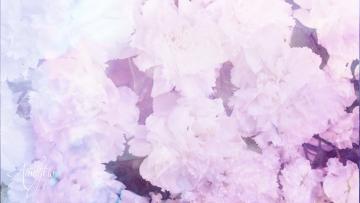 Uncover Hidden Flowers meanings
Because of its pure color, white carnations mostly mean innocence. 
If you love someone truly, these types of carnations also make the best gifts.  It's alright to mix white carnations with carnations of different colors.  Pink and even red carnations are a good match to white carnations.  This also depicts devotion as well as love that is sweet and ardent.
Carnations, besides being a symbol of good luck can also mean protection, healing and even strength.  It depends on where you look at it.  If you're looking for an opportunity to give white carnations, events like graduation or if someone is moving away are the best times.  Your wish of good luck for the people you care about will be conveyed through the white carnations.
Name: White Carnation
Color: While carnations come in vivid and bright colors, you can also get them in a clean and pure shade of white.
Shape: Carnations as buds are mostly shaped like tight balls but as soon as they bloom, they'll shape up like green bells with white ruffles on the edges.  Fully bloomed, white carnations look like cheerleader pompoms.
Fact:  White carnations mean something different from the white varieties with stripes. It is one of the oldest cultivated flowers but its popularity never waned over the years. Carnation is edible albeit it's spicy odor. The stem taste quite bitter but the petals taste is refreshingly sweet. It can take the form of an edible cake decoration and when it is soaked in wine or syrup, it can turn up into a "not so ordinary" desert.
Poisonous:  No matter what the color, carnations are poisonous although it's not as dangerous as you might think it is.  White carnations have a low toxicity level and the poison is mostly found in their leaves – not on the petals.
Number of Petals:  The number of petals in a white carnation makes its pompom look possible.  With as little as five petals, the carnation can get that delicate scalloped appearance but there are carnations with about 40 petals on it.
Victorian Interpretation:  As the most popular type of flower, carnations have a great number of meanings.  White carnations symbolize innocence, and pure love.  It also makes for a great gift to give a woman if you're wishing her good luck.  If you think someone is sweet and lovely, the white carnation is the perfect flower to tell them what you think.
Blossom Time:  Bloom time for white carnations starts in the middle of the year in June.  From that time, you'll have six to eight weeks of lush carnation plants.
Superstitions: 
Also known as Jove's flower, white carnations were used by the ancient Romans to pay tribute to the gods they love.  Wreaths of white carnations mixed in with other colors of carnations are laid in front of the statues of Roman gods.
In contrast, carnations were seen to be the flowers of the dead for the Indians in Mexico.  These flowers were often piled around their dead as they prepared them for burial.
The Shape:  Most flowers have bells shapes and cup shapes but white carnations take on a unique and interesting form, the shape of pompoms.  You might not really appreciate it from afar but if you move in closer, you'll see that the white carnations look like ruffles.  Together with the scallop edges of the petals, they add a distinct beauty to the white carnation.
Petals:  Regardless if the carnation has 5 or 40 petals, a single blossom looks jaw-dropping wonderful.  Whether you're giving this flower away to someone to wish them good luck or to show them the purity of the love you feel for them, white carnations are a good choice.
Numerology:  Carnations are a number 5 in numerology.  The main characteristics for numerology number 5 are sensuality, liveliness and strength.
Color:  Nothing is as pure as color white and that's what white carnations mean, purity and innocence, sweetness and loveliness.
Herbalism and Medicine:  
Carnations have many great medicinal properties.  It is widely used to relieve stress and cure ailments like inflammation.
By Flo Saul
Aug 20, 2012