Hydrangea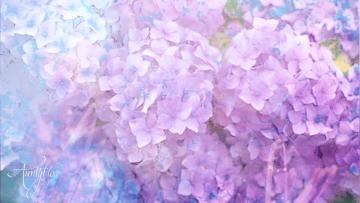 Uncover Hidden Flowers meanings
Disregarding the color of the hydrangea, this just means heartlessness and frigidity. 
It also means that you're sending a message to someone thanking them for being so understanding.  In witchcraft, this is a flower that works as a tool for breaking hexes.
On some cases, the hydrangea flower can signify other negative qualities - like vanity, boastfulness and braggartism.
Name:  Hydrangea
Color:  Hydrangeas are known as the chameleons of the plant kingdom.  That means that they can have a wide range of colors.  Starting from white, these flowers can also be red, pink, purple and blue.
Shape:  The hydrangea can have three different shapes when it comes to the way the flowers bloom.  It can be a mop-head where the flower cluster looks like a bouquet.  It can also be a lace-cap where the cluster is made up of flattened flowers.  With the panicle shape, this looks like a long and cone shaped cluster of flowers.
Fact:  The reason why hydrangeas can change color is based on the soil acidity.  However, not all hydrangeas can change color. The hydrangea bush thrives easily in a moist or well drained soil and flourishes in slightly shady conditions. In fact, a windy or sunny environment can dry up the leaves and make it eventually wilt.
Poisonous:  Every part of the hydrangea is poisonous.
Number of Petals:  Due to the hydrangea naturally having a cluster of flowers in one, there can be as many as 35 to 40 petals in one hydrangea flower.  But if you zone in on just one flower, there is actually just four petals.
Victorian Interpretation:  Regardless of the color that hydrangeas have, they mean three things in the Victorian age.  It can be that you're saying thank you to someone for understanding you.  Or it can be either of the two negative symbolisms, which is heartlessness and frigidity.
Blossom Time:  Hydrangeas bloom in mid spring to the early parts of summer - although this can vary depending on the location and what type of shrub of hydrangeas is planted in your garden.  Some hydrangeas bloom best in summer and others bloom clusters of flowers in the fall season.
Superstitions:  The old English believed that this plant was unlucky for young ladies.  It will keep them away from finding a suitable husband.  And if a household allows hydrangeas to grow in their gardens (especially near their front door), it's a curse to the daughters of the house to live a lonely life as a spinster.
The Shape:  As a cluster, it looks like a group of butterflies have swarmed onto something on the flower.  Whether it looks like a bouquet or flatters it looks like a cone, there's a corresponding name for each.  Hydrangeas can be a mop-head, a lace-cap or a panicle.
Petals:  Hydrangea flowers singled out from the whole cluster can look like a butterfly.  It can also look like little cups.
Numerology:  The hydrangea is number 11 in numerology.  It's a number that signifies mystical awareness and the balance between the good and the evil.
Color:  Naturally, hydrangeas are white.  With its ability to hold aluminum, the flowers can quickly turn blue based on the acidity of the soil.  Hydrangeas can be yellow, green, pink, red, purple or violet and sometimes they can have a mix of colors in them.
Herbalism and Medicine:  
Although the hydrangea is a poisonous plant, it's used as tea in countries like Japan and Korea.  It provides for health benefits like the treatment of autoimmune disorders and gives your immune system a boost.  It also treats diseases like enlarged prostate, malaria, kidney stones, baldness and blood sugar imbalance.
By Flo Saul
Aug 20, 2012