Freesia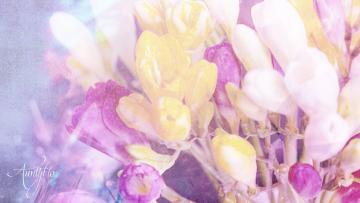 Uncover Hidden Flowers meanings
Freesia is a plant named after Friedrich H. T. Freese, a German botanist. 
This plant was named by his friend, Dr. Christian P Ecklon as a tribute to him.  Because of their friendship, freesia flowers were also seen to mean friendship.  If you think about the foundation of friendship, it's usually based on trust and that's why the freesia symbolizes trust too.
These flowers are commercially available as cut flowers but it can be a very big feat to grow freesia in the garden.  However, if you exert effort, time and patience for growing freesia, it might trust you enough to bloom and grow - right in your garden.
In terms of using freesia in wedding bouquets, it can also imply that there's trust between the couples to be wed.
Name:  Freesia
Color:  Freesia flowers are available in various colors like orange, purple, lavender, red, yellow and white. Also, there are freesia flowers that bloom in bi-colors.
Shape: The shape of freesia blossoms is characteristic of the letter Y. One of its more popular varieties is the "ballerina" – obviously because its shape looks like an elegant dancer.
Fact:  Growing from a corm, the freesia is a popular cut flower.  It's quite challenging to grow freesia as garden plants. Freesia counts one of the most popular flowers in the world. In UK alone, there are more than 110 million stems of freesia that is sold year after year.
Poisonous:  In terms of toxicity, freesia is considered a non-poisonous plant.  However, to people with sensitive skin, the sap can cause some irritation which can spawn rashes.
Number of Petals:  Freesia can have as many as eight petals on one blossom.  But if it's a double flower, there will be more petals on it.
Victorian Interpretation:  Freesia only means one thing in the Victorian language of flowers - it means trust.
Blossom Time:  The best months that you can get freesia are from February to April.  They'll be available in every possible color during this time.
Superstitions: 
Besides trust, freesia also represents innocence.  For many people in the olden times, they usually had freesia as décor at their wedding and also brides carried bouquets with freesia on it to symbolize innocence.
The Shape:  Freesia flowers look just like the gladiolus flower.  They grow from the corm and form a distinct Y shape with its petals.
Petals:  Freesia petals are quite delicate.  They need to be cultivated as well as handled with care.  The standard number of petals that freesia can have is four but for the hybrid types of freesia, they can have as much as eight petals.
Numerology:  Freesia falls into numerology as the number 9.  This talks about the characteristics of selflessness and obligation.  It can also mean having a humanitarian nature.
Color:  Regardless of the color that freesia flowers have, they always denote trust.  White freesia flowers would be the best choice for wedding. But if you're giving freesia to your friend, something in his or her favorite color would be appropriate.  Colors like purple, red, lavender, pink, yellow and orange are available in many varieties of freesia.
Herbalism and Medicine:
Freesia is a plant with sweet smelling blossoms.  And because of this, it's used in aromatherapy which is meant for stress relief.  Freesia oil is also used for items like soaps, creams, shampoos and the like.  When freesia oil is mixed into candles, candles give out a calming aroma that can soothe a person's senses.
If you're all wound up with stress at work or the office, having freesia in the room can help you get a clear head.  Since stress affects our bodies negatively, freesia works as some sort of prevention for bigger and more serious health problems.
By Flo Saul
Aug 20, 2012