Forsythia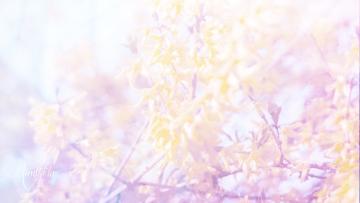 Uncover Hidden Flowers meanings
Looking at the way the forsythia is structured as well as when the flowers of this plant blooms, it's only natural that the Victorians would attach the sentiment of anticipation with it. 
When you get a forsythia plant, it starts out as a bunch of stems with nothing going on. 
With a little bit of patience and time, come spring, the vibrant yellow flowers will bloom and right after these flowers are growing lushly on the stems of the forsythia, the green leaves will start to grow too.  From this point on, you can anticipate the blooming of the flowers and wait in excitement for its leaves to shoot out and give contrast to the beauty of the flowers.
Name:  Forsythia
Color:  Various types of flowers can have various colors and hues but the forsythia flowers are only found in one color, bright yellow.
Shape:  These flowers are shaped like a narrow bell – formed from its long and narrow petals.  Especially during the rain, the petals droop down giving protection to its pollen.
Fact:  There are only 11 species of forsythia.  Most of these species are found in eastern Asia.  Only one is native to the southeastern part of Europe. It is widely believed that Forsythia contains lactose but further studies are highly anticipated for this confirmation.
Poisonous:  Forsythia is a nonpoisonous plant.
Number of Petals:  The small flowers on the forsythia plant are made up of four petals.
Victorian Interpretation:  Forsythia has only one symbolism in the Victorian language of flowers - it means anticipation.
Blossom Time:  As a mature plant, forsythia only blooms in the early spring.  The flowers usually come before the leaves.  So mostly, you'll be left with a plant that only has bare stems during its off season.
Superstitions: 
With the forsythia having only one symbolism, it also follows that it doesn't have any superstitions attached to it.
The Shape: Growing to a height of 1 m to 3 m, the forsythia starts out as a sprig of stems sticking out from the ground.  When the flowers bloom, they have a bell like shape to them which become a pendant of petals that covers the flower's reproductive parts.
Petals:  Forsythia is a very simple plant.  It produces flowers with four elongated petals and these petals are always yellow.
Numerology:  If you key in the name of the forsythia on a numerology chart, you'll come up with the number 4.  This number is characterized by the qualities of order, growth and foundation.  Its symbol is the planet Uranus.
Color:  Forsythia flowers have bold and cheerful color of yellow.  When other yellow flowers can mean something negative, forsythia only has one meaning.  It symbolizes anticipation which is not really a negative meaning. 
Although it can be a bit tiresome waiting for something or for someone, as the quote goes, "good things come to those who wait". As in the forsythia's case, if you wait patiently, you'll be rewarded with beautiful yellow flowers and a cooling sight of green leaves.
Herbalism and Medicine:  
Since forsythia is not a poisonous plant, it's a plant that can be used as medicine. Traditionally, the Chinese make use of forsythia as a blood detoxifier.  It's used to treat headaches and fevers too. This plant's extracts are dried and then combined with honeysuckle to make a cure.
As an antiviral, forsythia mixed in with lemon balm and honeysuckle makes a healthy tea.  This cures viral infections like colds. Forsythia is also an antibiotic. Sprinkled into applesauce, this makes a good cure for ear infection particularly in children. Forsythia is also an herb used for the treatment of bronchitis.
By Flo Saul
Aug 20, 2012