Two Snakes In Dreams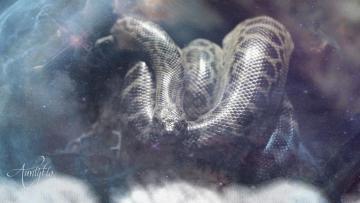 Dreams are our mind's way of expressing our innermost fears and desires, so seeing two snakes could represent something deeper at play. Perhaps you have been feeling unsure or anxious about two sides—perhaps conflicting sides—of an issue in your life. Do you feel stuck between two options? Maybe deep down you know what the right thing is but sometimes feel like going down another path instead. Or it could signal an upcoming battle between yourself and somebody else, whether that's figurative or literal. 
Snakes traditionally symbolize power, cunning, and transformation, so depending on how the snakes affect each other in the dream will help gain further insight into what message is being sent from within your subconscious mind.
What does it mean to see a dream about two snakes?
I should've also acknowledged other interpretations which have been associated with dreams involving multiple snakes such as wisdom and healing potential; however, these interpretations are less common than fear-based messages signified by dreams involving multiple snakes. 
This dream can be a cautionary warning about trusting someone close to you -- but also allows us to recognize issues --- which might bring positive change into our lives if we heed their wake-up calls correctly!
I believe it is important to remember no matter how powerful these dreams may seem – the symbol of the snake is connected to transformation. I must say, dreaming of two snakes can be quite a disconcerting experience. It is often interpreted symbolically, but the meaning behind it can vary greatly depending on the snake's color. If white this means spiritual development is coming, if brown grounding is needed, orange or red means watch out for something.
The main interpretation of this dream is that something in our lives requires a closer look and redefinition as two separate aspects; if you are feeling particularly bogged down by crazy things in your life, then this may be subconsciously represented by the symbolism of two snakes fighting or that they are entangled snakes. I also feel it could also represent feelings of being stuck in a problematic situation or being pulled in different directions when attempting to make decisions.
From a more traditional perspective, I want to share the Greek mythology connected to two snakes, gods such as Hermes (the messenger god) who was often seen (or drawn) with winged sandals as well as intertwined snakes around his staff representing knowledge and balance between the physical world and powerful energies from the etheric plane. In some myths, he was even able to charm snakes into aiding him during his travels--so perhaps dreaming of two snakes signifies discovering help within yourself while traversing difficult terrain both internally and externally. 
What does it mean to dream of two snakes intertwined?
I believe that dreaming of two snakes intertwined can be a powerful symbol of passion and hard work. This dream may indicate that you are willing to put in the effort necessary to achieve something great. It could also suggest that your hard work will eventually produce positive results, even if it doesn't appear so at first.
The symbolism of a "snake" is closely linked with the ouroboros, an ancient symbol depicting a serpent or dragon eating its own tail - this can represent wholeness, alchemy, and eternal cycles of destruction and creation. When combined with another snake in your dream, it could point towards transformation through determination and perseveration - you must stay focused on a mission despite any obstacles or hardships along the way. It could also reflect the power inherent in partnerships working together for mutual benefit and success; when two forces meet they create something more powerful than either working alone. 
If you find yourself dreaming of two intertwined snakes then try looking inside yourself for answers as to why this symbol is present in your subconscious mind right now - what is it asking you to focus on? At its core this likely means finding what makes you passionate about life again by taking action every day towards achieving something meaningful — doing what brings out the best version of yourself regardless of any doubts that may exist due to external pressures or criticism from others. Through commitment and dedication comes real understanding — wow it's great!
What does it mean to see a dream about a two-headed snake?
Ahhh… the dreaded two snake dream meaning. To dream about two-headed snakes has been interpreted as a sign of duality, change, and transformation throughout multiple ancient cultures. In Aztec mythology, the double-headed serpent was associated with Quetzalcoatl, the god of fertility and creativity; in Greek mythology, two-headed snakes were seen as a symbol of death and rebirth. Science can offer another explanation for why we may dream about two-headed snakes: Every 100,000 snake births, one will be born with two heads. This occurs because eggs don't separate all the way in utero. While this defect is incredibly rare among snakes (and humans!) dreaming about them could be our minds' way of acknowledging that imperfections do exist yet still allowing us to process them from a place of acceptance despite their strangeness or fear factor.
Conclusion of two snakes in dreams
Overall I do feel that discovering what these dreams mean to you personally is key for understanding their symbolic significance; however, I also believe that ultimately having faith in yourself during times like these can be enough for working through those challenges we are presented - which may have been symbolized by the two striking snakes!
By Flo Saul
Jul 9, 2023