Ice Cubes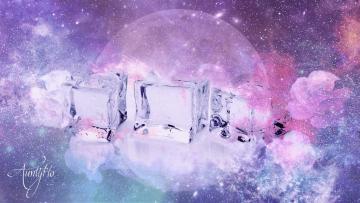 Uncover Hidden Dream Meanings
Ice or ice cubes refer to your feelings, but it is most of the time a sign of danger ahead.
Ice has also a symbolic and spiritual meaning, as it refers to you being frozen in your actions, thoughts or feelings, and it appears as a warning in your dream to tell you to thaw, soften and unwind. If you dream of ice cubes this is a reference to your cold temperament and emotions. This dream can also suggest that you have to cool off a bit, as your intense temper is out of control. The ice cube can represent a person who can do anything they wish in life. They are focused on their heart and want to do the best for others. The ice can also represent a new start but delays and blocks are in place.
Detailed dream interpretation
If in your dream you use ice cubes to cool your drink, it suggests that you will be able to raise your living standard to make it much more comfortable. The dream can also refer to the fact that some material stimulants are ending soon. If in your dream you need ice cubes but cannot find any can indicate that something in your life will limit you.
If you see yourself breaking ice cubes in a dream it can denote that you may experience fear of money loss. Dreaming of melting ice cubes suggests you should pay attention to others. There is a problem and it slowly gets out of control. This dream is associated with dangers and temporary difficulties. Dreaming of eating ice cubes suggests that you might be cheated by a woman. If you see lots of ice cubes in your dream, it means unhappiness ahead. To bath in ice cubes in a dream indicates that something will be missing from your life.
In your dream
You have ice cubes.
You make ice cubes.
You at ice cubes.
You use ice cubes to cool your drink.
Melting ice cubes.
Needing ice cubes and not being able to find any.
Positive changes are afoot if
You get calmer and less tempered.
Feelings that you may have encountered during a dream of ice cubes
Upset. Missing. Hot. Surprised. Content. Amazed. Curious. Enjoying.
By Flo Saul
Oct 12, 2012