Anchor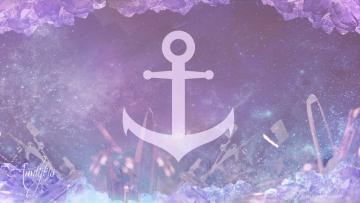 Uncover Hidden Dream Meanings
This dream means you value and respect your home, and properties. In the next week you will enjoy being active and involved in a range of interesting experiences.
The actual anchor (if this is iron) is the symbol of being and feeling secure, and in Christian art it represents part of the cross of Jesus. This suggests that you need to hold onto something in your life. The anchor in your dream is signifies that you can improve your everyday life by talking to your family and friends, about your problems.
In your dream you may have
Been anchoring.
Seen the anchor get stuck.
Dropped the anchor.
Lifted a heavy anchor.
Unable to move an anchor.
Seen an anchor at the bottom of the see.
Lifted an anchor from the sea.
Seen an anchor.
decorated an anchor.
Positive changes are afoot if
You used the anchor and felt good about it.
You experience happiness.
You enjoy the dream.
Detailed dream interpretation
Dreams involving anchors are hints from your subconscious that you should "stay put." Do not go shopping for things that you really do not need. Economize. The anchor is a symbol of activity. You may need to catch hold of something which will help you. If you are male, the anchor can sometimes represent creative urges. If female, then something is on your mind which is important to you.
Ancient dream dictionary books suggest the following meanings
To dream of an anchor is good news to sailors, if seas are calm.
To others, seeing the anchor means separation from friends, change of residence, and foreign travel.
Lovers are soon to quarrel if either person sees an anchor.
The symbol of an anchor is associated with stopping during a journey, so this dream could also mean that times are moving too fast for you, and you would like to slow them down. It can be an unconscious wish you had during the day, which in turn influenced your dream state. The dream processes will then run parallel with all the other possibilities of the state of mind. In connection with an anchor, this may mean that you are trying to wriggle yourself out of a difficult position or relationship.
If you dream you are on a rusty boat and you are about to anchor, it signifies that times are going to be difficult in the future. To see a rusty anchor indicates you will have difficult times in the future.
The anchor shape in your dream is of importance. The trends in the past are focused upon three designs: hook, plough, and fluke types.
Hook - designs use a relatively small surface area: this dream signifies contentment.
Plough - farmhouse plough type anchors. Used in the North Sea: it means go back to basics.
Fluke - lightweight and popular: it means teaching others.
Drogues - big sea anchors: it means individuality.
An anchor can also indicate ANY of following influences are going to enter your life over the next year:
Good times.
Getting carried away with a situation.
Time for change.
If you are on a boat and you lift the anchor and sail it means that you will have a dangerous affair, which will end quickly. If you see a large anchor, you can expect opportunities to intervene in your life soon. The anchor can suggest a delusion, but it can also be a danger related to water. An anchor in the water means that you will have a disappointment but an anchor above water is a good sign.
Feelings that you may have encountered during a dream of anchor
Worried. Happy. Content. Pleasant. Cool. Relaxed. Tired. Worked-out.
By Flo Saul
Oct 4, 2012