Ehwaaz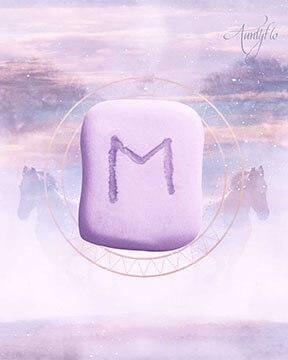 Meaning of Ehwaaz
This symbol Ehwaaz represents several types of bodies as a medium for journey and progress.
Lookalike symbolizes the holy wedding of internal and external or brain and body. The rider and horse symbol is the finest way to show about the symbiotic relationship.
It also shows the relation towards the animals. Anybody with the slightest contact of a relation of a horse to a group or individual can understand the esoteric code hidden in the symbol of Ehwaaz.
The symbol Ehwaaz is not about pressure, but influence, teamwork, and cooperation. It is about developing a good rapport within team members or group members. It also symbolizes suppleness, malleability, and practicality. It is also rational analysis as well as reasoning. Thus, the best phrase to explain it would be spiritual connection. This also has a lot to do with the logic of ANSUZ or MANNAZ. This also goes for the authentic rapport shared for the sake of its own.nThis also deals with the mixture of poignant energy with every type of scholar glimmer, so that the partnership shows the rapport shared in a different way.
Ehwaaz also shows the relationship of a man and woman that is just not sharing, but also a natural bonding that is a strong bond of energy. It is the rune of psycho-pious build – fetch. Anybody's fetch is opposite the gender one is. A mutual attraction that builds up ultimately, this is the reason there is good rapport in a genuine way. A Dagaz rune doesn't have a reverse, but it has elements in opposition. This way, it represents finality, barriers, loss of sight, and despair.
These are the negative parts of the rune where one must walk carefully, for many temptations and dangers can follow in his or her footsteps.  Ehwaaz is also known as Ehol, Eoh or Eykur. It means trust and loyalty in general.
Key Concepts 
Honest, Reliable, Loyal, Fast, Teamwork enthusiasm, Trustworthy, Devoted, Dependable, Speedy, Fierce.
 
Psi 
Trust, Faithful, Sexuality, Understanding, Co-operation, Candid.
 
Energy
Fetch, Reliance, Teamwork, Ambitious.
 
Mundane 
Companionship, Cooperation, Animals.
 
Divinations 
Wedding, Faithfulness, A companion, Harmony, Replica, Dissonance, Distrust, Disloyalty, Nightmares, Hesitancy, An adversary, Faith, Cooperation.
 
Rules
Turning up the inner energy to get the goal.
Capacity to detect dishonesty and be far from it.
Starting new patterns and exposing delicate lines.
Facilitating rapidity in every way possible.
Making a good rapport with animals (that is, horse whispers).
Making a group to get fetch.
Giving importance to loyalty.
By Flo Saul
Mar 13, 2013