Saturn Mount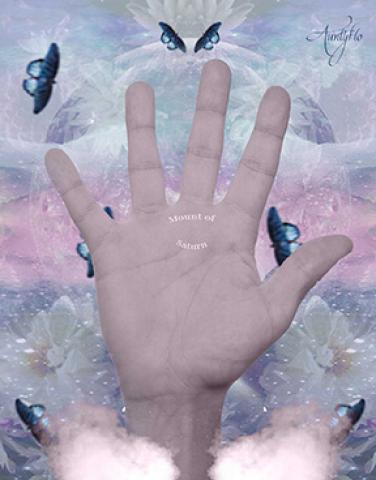 The Saturn mount is located below the middle finger. The god in association with the Saturn mount in Greek mythology was called Chronos.
This means "time." The Saturnine person will always be concerned with time and the rules of life. This mount was considered negative 500 - 600 years ago in palmistry literature. Many markings on the mount were connected to death. However, in the modern world, with the help of improved medicine this is now rarely the case. 
This mount is infrequently over developed. The more prominent the mount, the larger and squarer the Saturn finger. Saturn qualities are associated with a focus on rules, career, reliability of others, reasoning, and obtaining information. Care must be taken when reading this mount as there is an association with many strong characteristics. Mount Saturn is known as the "deity of good luck". This simply means that if the mount of Saturn is well developed and structured, then the subject will have good luck in most of their undertakings.   If the subject has an over developed mount then the person will struggle in life to try to keep others on track. They have a habit of pulling away from commitment. They must take time to liberate and decide on what will be the best way forward.
This person brings about balance of other personalities. On a negative note, this person's personality is normally depressive. Their personality is sometimes eccentric, most of the time, they will come across as aggressive. As they age, their character worsens till they resort to the spiritual world, believing that it's their ideal source of peace and security. Those with a prevalent Saturn mount are described as Saturnine. A personal with too much of a Saturn's impact will be too traditional, distrustful, firm, and reluctant to respect others. Too big a mount of Saturn indicates that these individual's are introverted, and aloof, too introspective and cautious.
They may even become ungenerous and doubtful or incapable to believe in anyone.   If the subject is a man his appearance is most likely to be a tall person. Typically, thin and pale. The person with a mid-sized mount of Saturn is one who displays an excellent feeling of togetherness in his or her family. The Saturnian's point of view is of wisdom.  He or she normally aims for a career in authority, such as a manager in an organization. If the subject has a depressed mount of Saturn they will not have the negative qualities of this mount. Instead will have a feeling of liability and organization.
They may come across as being flighty, reckless, unorganized, and trivial.
The shape and size of the mount is an indication of the varying degrees of these virtues in the subject. If the Saturn mount is large and slightly raised, then the subject will have an assurance of meeting their life long ambitions. These achievements will be met without the individual having to go through stress or hassle. If this mount is not developed fully, then the individual shall have a lot of trouble in their life as they will always struggle to meet their ambitions and goals. In such a case, the person will be prone to causing self-destruction. If a person has a loose mount of skin on the Saturn mount this is an indication of self-destruction.
Their lifestyle will always lead them astray, leaving them with disappointment.  As the mount Saturn is found at the base of the Saturn finger, it symbolizes the supernatural forces in a person's life, this simply means, if one has a well grown Saturn mount, they have extraordinary abilities in occult or magic work. These individuals are lovers of money and have put all their hopes in getting more wealth as the only way their lives can improve.   They will pay huge amounts of money to get whatever they want. Their best known weakness is being suspicious of all other people, the habit normally starts when young, here they show great suspicion of their friends and family. The subject is likely to cause self-destruction in their lives. The mount is common for the people who engage in unlawful activities, this is inclusive of thieves. For such individuals, you will find the mount light yellow, at times it can be white. In comparison to the rest of the population, these individuals are light skinned and their hands are relatively pale.  
Markings on Saturn Mount
The marks that are generally considered positive such as the triangles and squares improve the desirable qualities of the mount of Saturn. There are also markings that bring about undesirable qualities and they have been named the negative markings, they include grilles, crosses, and islands.   
By Flo Saul
Oct 30, 2012