Mercury Finger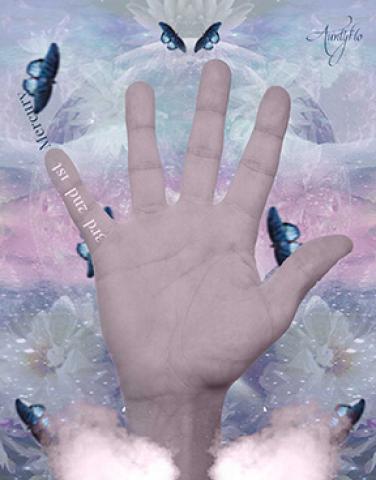 Mercury is known as the god of commerce, travellers and communication.
Astrologically mercury is associated with the zodiac sign of both Gemini and Virgo.
The small finger is known as the mercury finger. This is the key to individual's balance or abuse of power. If the finger is long, the individual is witty, and will have success in business.
A short mercury finger means the subject lack the ability to make a decision in life. It is a good sign if this finger is straight and long. When pointed, it shows eloquence, tact and diplomacy; when square, good at teaching and business.
If the first phalange is relatively long it shows a love of science; if the second, a love of industry and business; if the third phalange is long this is a love of scheming.
The Mercury finger is the smallest among all the fingers, and is the furthest from the thumb. The Indians named for this finger "Kanishtika.
It is associated with the subject's communication powers, as well as business acumen. 
Many people normally have a Ulna loop on the little finger's print. his means that the person is a follower of others. The loop means that they will bounce along in life from one task to another.
This finger rules the subject's communication qualities. The longer the finger the more this person is able to communicate. 
Many people in the public eye have large or long mercury fingers. Especially those people in the profession of public speaking such as politicians or lawyers.
It has been noted that subject's with a long mercury finger are great lovers. They are normally attractive people with lot's of energy. 
If the mercury finger is straight then it means the person is honest. They enjoy and gardening. To have a straight little finger is considered "normal" as 90% of people have this trait.
By Flo Saul
Oct 30, 2012