Marriage Line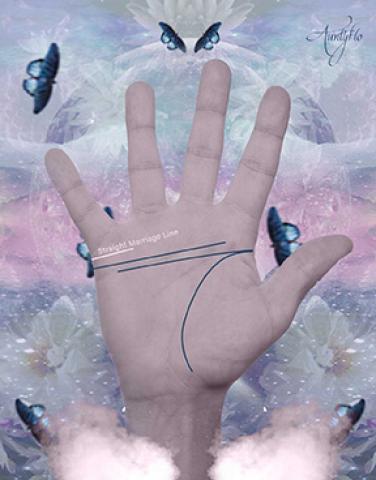 Relationship lines are known as the line of marriage or affection lines.
The lines are normally present below the little finger on the mount of mercury. Most people have two marriage lines parallel to each other. It does not always mean that you will have two marriages and can mean one relationship will be enough in your life. 
Ancient palmistry literature provides an overview of what this line means but most palmists in the 1920s read for the elite of society, so this should be taken into account when reading your lines. Firstly, the deeper the line the better the relationships the person is likely to have in life, better communication, and happiness.
If the marriage line is broken, then it can mean divorce, separated or death of a loved one. When there are a large number of lines on the palm then there will be a case where one spouse leads the other on a mission to commit an evil act.
Lastly, if there are broken fragments that are overlaying, then it is a clear indicator that the couple will be separated before eventually reuniting once more.
Whenever the marriage line is three quarters the size of the heart line, then the owner of such a line will marry between 30 to 35 years. On the other hand, a marriage line that is closer to quite near the heart line means they may never marry. Some people have several marriage lines but that does not mean that they will get married to many people.
The lines should not be too wide or deep since that is a sign of stress in the marriage and reducing love. The availability of small signs on the love line is a sign that the person will be involved in extra-marital affairs. The lines which are longer are the only ones that are related to marriage.
Ancient palmistry predictions from the 1920's for the marriage line
If the line slopes towards the heart line it means that your spouse will die suddenly.
A long lasting relationship is denoted by a long marriage line.
Double marriage line means two main loves in life.
A slope towards the Heart line which is gradual indicates that a partner will die after a long illness.
If the marriage lines curving to the ring finger then there is a likelihood that such a person will lead a single life and end up marrying at the old age.
If the heart line is near to the marriage line then that is an indicator of the marriage will take place early in life.
If the marriage line is very close to the area between the heart line and the 4th finger, then marriage will occur late in life.
By Flo Saul
Oct 30, 2012