Apollo Mount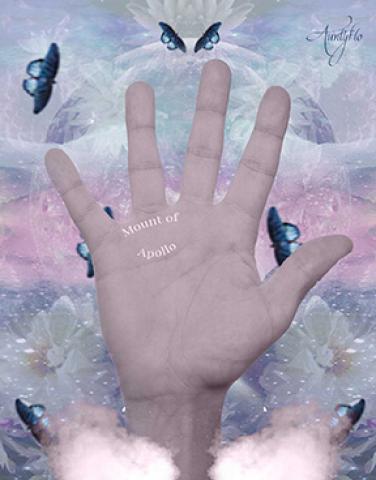 Apollo is the Roman god of the sun who stands for light and truth, healing and beauty, poetry and art.
The mount of Apollo is located at the base of the ring finger and is associated with all the positive attributes of the Roman god.
If the Apollo mount is of good size this denotes that the bearer is outgoing and enthusiastic, talented and creative, lively and positive. For this mount to be raised, (compared to the other mounts on the hand) means that this person will have a good sense of humor.
For the triradii to be positioned in the center of the Apollo mount means that this person is logical, versatile and has an understanding of the hidden things in life, but normally has a desire to lead others. This leadership may make this person unpopular. Your love for self-expression, beauty, and creativity may be observed in your hobbies of cooking, crafts, fashion. Those with lines going vertically downwards have a deep interest in the occult.
On turning the hand sideways if the Apollo mount is protruding outwards (compared to the other mounts) this person will possess the above qualities but to the extreme. Such a person may come across as being loud, and this person will exhibit behavior which is quite intense. This person maintains a hedonistic lifestyle. This results in burning the candle at both ends! If the mount is not well-defined this means the person lacks talent. This person may be dull and insensitive to the finer things in life. This person tends to be secretive and hate being in the spotlight, and not ready to face the outside world.
If the mount of Apollo veers toward Saturn the bearer will be creative but in a less flamboyant way. This person likes self-help books plus romance novels. Creativity is of great importance to this person. Keeping organized by either creating an epic poem or writing will keep this person occupied for many hours.
A mount of Apollo that veers toward Mercury: 
Stands for a love of art. Material success will be achieved through artistic skills. Markings on the Apollo mount: any positive markings like triangles or squares on the mount will result in material wealth for the bearer.
A square on the mount of Apollo is indicative of an improved level of protection against a bad reputation as well as the loss of property and other material possessions of individuals. There are some few cases in which one small vertical line that appears above the line of heart is indicated of good retiring life. If there are three vertical lines that are running parallel to each other, then one will be happy and wealthy in their life. Having a trident rearing towards the right means fame.
Negative markings on the Apollo mount: 
If the Apollo mount has negative markings such as islands, crosses, and grilles, there may be some misfortune, see the markings below.
By Flo Saul
Oct 30, 2012