Springbok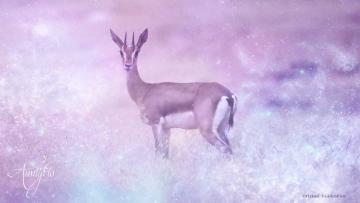 When a springbok appears as one's animal totem it is teaching us the simple joy of life.
This simple joy can never be bought with money.
A mature springbok can grow from approximately 70-90 cm long and weighs 25-35 kg for the female and 32-48 kg for the male. They can be identified through their maroon and dark brown colors.
Springboks have less participation on mythology and ancient tribes. Springboks are telling us to live in reality, we can always go into our happy, fantasy place but know when to comeback. Focus first on our life and deal later with your fantasies that make you happy. It is also better to make those fantasies real.
These are the things that can give us ultimate happiness and contentment in life. Springboks as animal totems want us to understand happiness and be thankful for it. Things that we have but we do not realize the joy they bring to us, things that we started to notice as important when we can't have them any longer. The Springbok is teaching us to appreciate life and show affection to others.
Springboks are also known for their ability to run, their agile movement reminds us to stop procrastinating on areas of life. There are things that cannot wait to be finished. Tomorrow might be too late. Like a career chance that is presenting itself to us.
This animal totem is also a reminder for us to give 101% in everything that we do. Put efforts and excitement into work, let positive spirits affect surroundings and let other people follow your lead. Give everything you've got to things that you love to avoid regrets. If things don't turn out fine in the end then don't threat. At least you can safely say that you've done your best and there is nothing else you can do about it. It is no longer your fault that things don't turn out the way you planned it.
To see this animal totem might also be a warning sign that we will have a problem concerning sickness, dehydration and diarrhea. To see a Springbok is also a sign that we should appreciate our surroundings, and the effort they make to achieve a beautiful nature.
When was the last time you gave back to nature, what are you doing in order to preserve life's beauty and improve its quality. Nature is giving but it also needs to heal, if every one of us is getting something and not giving back in return, this nature will continue to suffer degradation, and there will be a time when things are not sufficient.
Springboks have different messages to each of us, if you have the time sit in a quiet place, meditate on a springbok and ask to reveal its message to you. This creature can help you on ways you can never imagine.
Springbok shows up as a spirit guide when
When you ask for their message to be revealed to you.
When need help in ways you can never imagine.
When you need to appreciate your surroundings.
When you need to be reminded of problems on some matters concerning illness.
When you feel the need to stop procrastinating on things that you need to do.
Call on a Springbok as a spirit guide when
You need to admire how beautiful nature can be.
You need guidance to preserve nature's beauty and improve its quality.
You need to give 101% in everything that you do.
You need to live in reality.
You need to focus first on life and deal later with people that make you happy.
By Flo Saul
Mar 26, 2013