Sea Eagle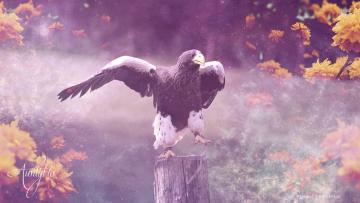 A Sea Eagle is an amazing animal totem for the human being. This animal totem is closely related to males and the essence of water.
If we consider Sea Eagle as our animal totem, it gives us an enormous awareness on hunting processes and ecological measures in our country.
The sea eagle has lots of benefits like relaxation, stress management, better concentration and curing different diseases. It is one of the best animal totems for the mind that can provide relaxation and develop self-confidence in you. It is self-directed, it's just you focusing by yourself. It is a progression from rigidity into flexibility on all levels of your being mental, emotional and physical. Meditation can be considered a technique, or practice to communicate with this bird.
If we take a look on the symbolic meaning related to the Sea Eagles we will find the following characteristics:
Prospects in life are positive.
Defense may be required.
Responsibility.
Supremacy.
Control.
Freedom.
Achievement.
Power.
Talent.
Determination.
Dreams.
Freedoms.
Motivation.
Judgment.
Leadership.
These symbols show that a Sea Eagle's influence our life. Their animal totem is related to hardship along with inspiration. If the Sea Eagle is your animal totem obviously you will have the above characteristics in your character.
The Sea Eagle is the sign of the USA. In local American traditions the Sea Eagle is considered as blessed as a religious herald that carries tranquillity, fruitfulness, respect, self-determination, power, enlightenment and bravery.
Sea Eagle as animal totem
The Sea Eagle totem teaches us strength to observe the utmost reality. This bird shows this by making equilibrium of the earth and the sky also of the sea and the earth. Sea Eagles' medication also tells us about the liberty we have.
Stamina and Energy
Sea Eagle totem teaches strength and power of human being as an outsider with amazing beauty and loveliness. The people who have a Sea Eagle as their totem are frequently enforced to be unaccompanied. Their massive bodies misapprehend their wisdom of elegant authority and their pride. Animal totem of Sea Eagle are naturally majestic with astonishing visions, eager approaching, daring strength and the highest sympathetic attitude. They represent the contributions of energy all through their life and the capability to fly on top of any possible difficulty.
Mentor for human being
While taking a trip to the sea, the Sea Eagle can guide one towards the highest realms, because they have the bravery and resistance through a thruway which takes them straight to their territory. The Sea Eagle totem can help one find a way of recovering from trouble and can manage any alternate way.
Inspiration and Leadership
People with the Sea Eagle totem are specialists in spiritual recovery. They show their powerful direction to trail along any branches of strength. It can be detained in another place in realms of sadness or panic. Sea Eagle's symbolizes immense courage that may regain one's intelligence of personality, elegance, bravery, ascension with huge pace & effectiveness.
Self-protection and Responsibility
Sea Eagles are ferocious as guardians of their young. They guard their young showing them security, power, asylum and supremacy to any harmers. This trait of the Sea Eagles exposes the protective mentality and responsibilities of the parent. People that have this animal totem can take proper care of their family and will survive danger.
Sea eagle meaning in Alchemy
In Alchemy, the Sea Eagle represents the most important subject, the beginning of alchemical process.
Mayan and Aztec symbol of Sea Eagle
Mayans believe that the Sea Eagles carry the curtain of darkness and mystery over the survival and responsiveness. They are joined with the beginning of sun and capable of shining light for our earth.
In Celtic mythology, Sea Eagles are connected with the representation of water. Possibly because the Celtic family experienced their superb facility to observe waters with amazing clearness. This totemic symbol shows our clear vision for success considering the clean water.
In conclusion, we can disclose Sea Eagles as a solely related animal that can guide us towards success and encourage us to stand with strength in case of any difficulty.
Sea Eagle shows as a spirit Guide when
Asking for guidance on life decision.
Showing supremacy.
We want to inspire others.
We need to have the power to withstand trials.
We are seeking strength.
Call on Sea Eagle as a spirit guide when
You need to make the right decision.
You need to be superior while not putting the others outside the limelight.
You want to motivate someone.
You need to have the courage to face problems.
You need to add vigor to your life.
By Flo Saul
Mar 26, 2013