Purple Candle Spell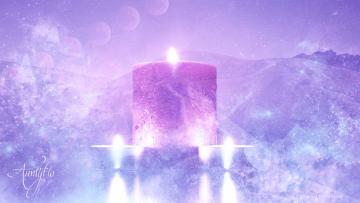 Psychic Vampire Spell – ProtectionHave you been around a person that makes you just feel down?
Do they make you feel like you are tired or do you find that you pick up their moods simply by being around them and you don't know why? Psychic vampires and psychic attackers are around you every day. Some people suck the energy out of you without even knowing. This is  powerful and long-lasting protection spell against having your energy siphoned by another and protects you from psychic attacks from others. The goal of this spell is to protect you from general psychic attacks. If you are dealing with a truly toxic person you will know as this spell will not work fully. If this is the case then you will want to consider distancing yourself from this person if you can or taking additional precautions. This spell is also good to be used along with wearing protective icons and protection wards.
What you need:
Dragonsblood Ink
Lotus essential oil
Parchment paper
A black candle for binding your own energy
A purple candle for protection
On the palm of your hand and in the middle of your forehead you will want to anoint yourself with the Lotus oil. All you need is a drop!
On the parchment paper draw a sigil for protection with the dragonsblood ink – we recommend a hexagonic star such as with the Pennsylvania Dutch styles for stylization but any sigil for protection will work for the spell. If you are unfamiliar with these signs look up "sigil for protection" or see our sigil creation page.
Light the candle and chant:
"By the light of the fire my will grows strong. Will that is forever mine. Spiritual awareness and psychic strength be my aid and keep me protected. Light the path through the darkness and with this light, protection over all things dark shall be mine."
Focus your energy to your third eye (the area just above and between your eyebrows) and see that area being fortified. Feel the energy from the candle swell around you and imagine a purple aura of protection around your entire body.
Meditate on protection, security, and sound mind as the candle burns.
You can open your eyes when you feel rejuvenated and put the candle out by extinguishing it. Carry the lotus oil with you and chant the words of protection to yourself when you feel like you are being attacked.
See The Future Dream Spell
This spell is to allow you to glimpse into the future while you are asleep and needs to be done as you are going to bed. Make sure you use a safe candle and one that is small, as you will want it to go out fairly quickly as you fall asleep.
What you will need:
A small and secure light purple candle – a simple beeswax tea light will do.
Prepare your bed area and be ready to fall asleep. Place the candle where you can lie in your bed while meditating on the candle. As you prepare for bed make sure that your mind is clear. If you normally have trouble sleeping try taking a warm shower and having relaxing scents in your room. When you are ready for bed light the candle and then quietly chant to yourself as you go to sleep:
:"I see the future with this light. I see the future in my dreams tonight."
Continue to say the chant to yourself as you drift off to sleep. Remember to write your dreams down right away in the morning as you may forget them!
By Flo Saul
Nov 13, 2012