Muskrat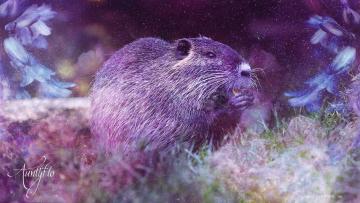 Muskrat is a large rodent that always lives close to water surfaces. Muskrat also have brown furs which are very thick.
Their tails are scaly and fur less. It can grow to a length of two feet. They live alongside ponds, rivers, lakes, marshes and streams. They usually build a house near the waters. Their houses are called a lodge. This house can be five feet high and eight feet across. They also burrow some holes in streams or in the pond's banks.
They usually breed during winter. Their females can have ten young ones. Their young ones are usually given birth to with no fur that begins to grow after two weeks then they are able to swim. When they get very crowded, they'll always drive the young ones away sometimes they kill and eat them.
They are usually active all day long and especially at night when there is darkness. They can swim excellently and are also capable of staying in the water for up to 15 minutes. They usually swim backwards and forward as their tails steer the waters.
They eat different kinds of vegetables. They also feed on animal foods such as sedges, water lilies, cattails, rushes, pickerel weed, wild rice, clover, frogs, acorns, willow arrowhead, crayfish, switch grass, and mussels, pond weeds, sweet flag, and maple samaras.
Muskrat's wisdom includes: ability to swim through emotional waters and return home, ability to reuse what others have discard, understands the value of survival of interspecies cooperation and adaptability.
Muskrat power enables us to swim through emotional waters to return home. This teaches us that we should be ready to face any challenges that may come our way but still home is the best. When we face problems and challenges, we should not be discouraged but we should continue working hard towards achieving our goals in life. We are taught to be able to control our emotions.
It also enables us to learn the ability to reuse what others have discarded. It is very important to recycle some things that can be recycled to avoid wastage. Muskrat can use their own children as food instead of them getting killed. The power of recycling is important because it also enhances savings and avoids the misuse of resources. What could have been thrown away is given meaningful use that can cause gain economically. It also teaches us to use our resources well.
It enables us to appreciate the value survival of inter species cooperation. Muskrats are able to cooperate with other species in their surroundings. This teaches us to relate well with those around us because we definitely depend on them in one way or another. We also learn the adaptability of the surrounding. We should be able to adapt well into our surrounding. We should always devise ways of solving the problems that usually occur in our surrounding so that we will be able to live well.
Muskrat shows up as a spirit guide when
You need the power to belong to a certain group.
You are emotionally unstable.
You need to use our resources well.
You need to be active.
You need to have good relationship with those around you.
Call on Muskrat as a spirit guide when
You need to separate yourself from group.
You have peer pressure.
You feel emotionally unstable.
You need to adapt to certain difficulties in life.
You are unable to reuse the left-over of resources available within the society.
By Flo Saul
Mar 27, 2013