Moose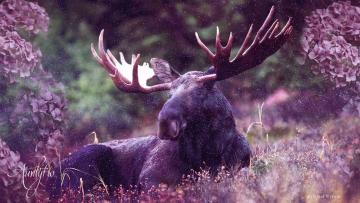 Moose is a symbol of the triumph of completing a task.
This joy is not the exhibitionism, it is enjoying and letting others enjoy, the true delight. Moose is a confident and determined animal. Its wisdom helps it to lead a long life full of grace and self respect.
The moose is a powerful, energetic animal growing up to 7 feet and weighing up to 1200 pounds. This massiveness, alone with its reputation as a sacred animal, teaches you the importance of processing a unique strength and noble disposition. A person needs his unique capabilities and lifestyle in order to thrive in the modern society. A person, who is indispensable due to his unique character, succeeds in surviving social relationships.
During copulating seasons, the males shout, and the females answer the calls within ranges up to 6 miles. Males who are determined and fearless, rush towards the females fearing nothing on their path. The same principle could be used to achieve something you desperately need. The braveness and utmost courage. Visualizing the obstacles and challenges as spices to flavor the monotonous life, we must never retreat in front of them.
Despite the massiveness, they have ability to wander within their territory in camouflage. That teaches us about the "invisible presence ", a quality that could only be practiced with time. Let us take a managing director of a company as an example. Is not that the best way to investigate what his employees think about him? It is a fine approach to learn the reality of productiveness of the company rather than the isolated view from director`s office.
If you choose the moose as your sign, you are a difficult person to understand owing to your reciprocal traits. You are a genius in a certain subject, but you stumble in another field that everybody hopes you to win.
Despite the massiveness, the moose can wander invisibly. Despite the elegance, the moose is not so active in behavior. The same applies to you, if you are a moose totem person. Furthermore, you are an intelligent person with a subtle system of sensory reception.
You can naturally deal or negotiate with a vast range of people with various natures and nurtures. Actually, you can have a polite discussion with a good gentleman and threaten a bullying, aggressive person away.
Related myths: the magicians elude the mythology of a moose to its ability of altering the body shape quickly. This skill is also effective for you to incorporate as a strategic trait in living. It is definitely not the opportunism.
Think of a moose emerging from the forest outline at dawn. It is surrounded by a vibrancy of strength; the universal strength. Its huge antlers extend upwards and widen at the end, resembling an equipment to absorb the universal knowledge, attract the powerful electromagnetic waves of universe like the mysterious cosmic rays. In fact, the moose is a lovely animal to look at.
Moose shows up as a spirit guide when
You need the ability of self concealment.
You need power of life and death magic.
You need the unstoppable power.
You need to express joy of accomplishment.
You need to acknowledge the truth.
Call on Moose as a spirit guide when
You need to have self esteem.
You need to be unpredictable.
You need to be spontaneous.
You need to be patient.
You need to have sacred energy.
By Flo Saul
Mar 25, 2013