Heron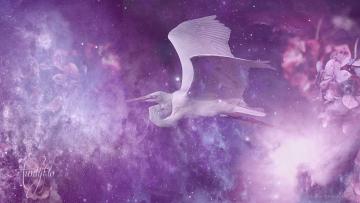 If the Heron becomes your animal totem it is important to use this as a guide, spiritual tools, or rather a spiritual symbiosis, which will help with your personal path of awareness.
A Heron is a fresh water bird with long legs, which belongs& to the family of Ardeidae. This bird has a long and sharp beak, short tails, good eyesight and long necks. They mainly feed on aquatic creatures and majorly inhabit the wetlands.
They have many myths associated with them in various countries. In Greece for example, they are considered as messengers from gods like Aphrodite and Athens.
Heron's symbolically provide several lessons that we can learn from their lives and from their character traits. They teach us to be precise, especially when making decisions in our lives. This will help us save time and energy. It will also help us to be effective.
They teach us to avoid being shy on our appearance. We learn to be elegant and appreciate ourselves - regardless of our personality or looks.
We also learn to be patient. We should have positive patience that enables us to grab an opportunity when it comes along instead of waiting for others to do everything for us.
They also teach us to be proud of what we do and to appreciate the opportunities that come our way. We should learn to do everything well as we expect success.
This animal totem also allows us to learn to be on the right path towards achieving goals. In the same way, we should target our goals and avoid distractions. The symbol of the holy spear shows that herons bring holy messages. They bring messages from the Gods.
They also represent rivalry that stays forever just like the sibling rivalry. Those who are blessed to have siblings and parents with more than one child should take this into consideration.
The Heron teaches us to carry out with dignity and pride. We should love who we are without pretending or copying others. We should also be compassionate to other people. This will help us to live in harmony with one another.
The Heron also teaches us to have emotional stability. It symbolizes emotional stability gained through visions and meditation.
Although the Heron teaches us lessons, it is a positive animal totem. Those who take it as their animal totem express characters similar to them. They tend carry themselves with dignity and pride. They are calm. They are patient. In most cases, they are the performing artists, actors and excellent dancers.
They are great managers who know how to manage their time. They know how to balance work, family issues and leisure without any strain. They end up with more time. They are aware of their time, They are sometimes faced with a challenge of balancing their emotions. At times they can be melodramatic or even passionate while sometimes they can express feelings of depression or suppression.
Those who reject the heron as their totem tend to miss an opportunity when presented to them. These people also have problems with those who are confident. They are unable to balance their self esteem.
Do you want to be like heron? Examine yourself and take action.
Heron shows up as a spirit guide when
You need to be patient.
You are precise.
You feel proud.
You have high self-esteem.
You carry yourself with dignity.
Call on Heron as a spirit guide when
You need a sacred message.
You feel shy.
You are faced with sibling rivalry.
You cannot appreciate life.
You lack dignity.
By Flo Saul
Mar 26, 2013