Ferret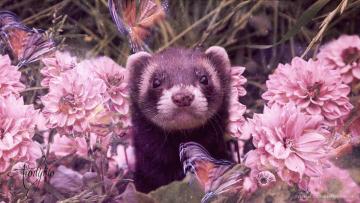 The ferret is a type of weasel.
They are domesticated mammals. When the ferret shows up as an animal totem it means that one must keep their faith strong. According to historical and archaeological sources, ferrets have remained domestic for at least 2500 years. According to Greek history, ferrets have been in existence since 450 BC. They were used for rabbit hunting during the time of Jesus Christ.
The other tasks assigned to a ferret was to get rid of rodents on board of ships.
Ferrets store food for later consumption, they are clever and this is a sign to try to save the pennies for the rainy days. Whoever considers a ferret as their totem animal should be focused on achieving their goals in life. This is because ferrets are intelligent and goal oriented mammals. There great at being focused on the future.
A ferret is sensitive and clever. If a ferret totem enters your life then you should be aware of your strengths and weaknesses.
You should try to understand yourself. Whatever experiences you have in life, they make us better people than we are before.This teaches us that when we feel like giving up, when we feel exhausted and anxious we need to become more lively and playful. This animal totem means that one needs to be rejuvenated and energetic.
What the ferret communicates?
Just like children we all need to play. When we are focused, after a while we get tired and we lose the focus. We need time to rest and regain strength. This has worked for me. There was a time when I could feel very exhausted but when I started playing with my pet and playing outdoor games, everything has changed for the better. I became more energetic and very motivated to continue working towards achieving my goals.
Ferret people should go somewhere to refresh themselves and reflect. A quiet and calm place where they can meditate is vital when they get scared. Elks as well have this trait of having their tail get bushy, letting out of musty scent to send away their predators whenever they get scared or even excited.
Elks move very fast. They are active. This teaches us to be very active and swift in our actions. This is because some situations require quick actions in order to achieve the intended goals. This also implies that we need to grow economically, spiritually and emotionally to avoid life stagnation. People ought to move from one level to another in all spheres of life.
Have you realized how powerful totem ferret can be? It can help you& discover your strengths and powers that you have never realized you do possess. You will discover the true you and understand so much about your life. Try it now if you can. Meditate upon this vivid insight you have received. You can become what you want.
Ferret shows up as a spirit guide when
You need strength
You are motivated
You are focused
You need to refresh yourself
You feel exhausted
Call on Ferret as a spirit guide when
You feel gloomy
You are afraid
You are slow in your actions
You need spiritual, emotional and economic growth
You need to be focused on achieving your goals
By Flo Saul
Mar 26, 2013