Blue Tit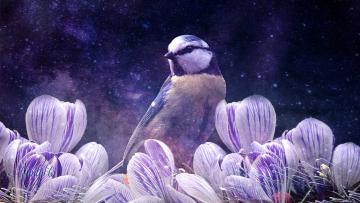 A Blue Tit represents love and trust.To see a Blue tit fly in the sky is a sign or omen of love on it's way.
The Blue Tit can represent the best things in life. To see a Blue Tit in the sky or to meet one in meditation means that a partnership requires strengthening.
This totem bird is associated with the arrival of a brighter future. It is regarded as a creature of nobility, it also and has a rich and colorful history. The Blue Tit is a symbol of love, faith, hope and honor which are all positive attributes attached to this wonderful creature.
To sailors, the Blue Tit is a sign of loyalty or luck. It is helps in friendship, honor and family.
The Blue Tit is one of the rare creatures, who place a significant value on the need to help others. What characterizes Blue Tits most is their instinct of partnership. Throughout their life, they will only have one mate, so when you meet a Blue Tit either in a field or as an animal totem then you will normal be destined only one partner This is a sign that you can positively deal with relationships.
The Blue Tit allows one to remember the best things in life. Especially, those that we have successfully completed. In Celtic symbolism, the Blue Tit is seen as a powerful symbol. So let's now look at how the birds mate.
The male creates the nest, and then woos a female to it through its singing. The Blue Tit also stands for a loyal and faithful love; These birds are known to always come back to their homes each year. It is thought that if a man has a tattoo of a Blue Tit he can be expected to return to his lover and meet his soul mate.
Since Blue Tits never fly far distances from their homes, the sight of them always denote good tidings to a sailor. It would mean that land is near. Blue Tits are also believed to carry the spirits of sailors who have died at sea, to their home in heaven.
The Blue Tit is a worthy example of enduring faithfulness and love for your spouse. They are monogamous birds and will only choose one mate in their lifetime. This will be the only mate until the bird's life ends. Thus, this denotes that the animal totem is a loyal follower.
During the earlier eras of our life, Blue Tits were connected with the gods and the soul of those people who died. The Greek and Roman's believed in gods and goddesses who transformed themselves into Blue Tits.
The Blue Tit's were seen; as carrying the dead soul. Hence, killing a Blue Tit was considered to be an immoral practice. The way that the Greek and Roman's value the Blue Tit presents how they have also created the culture with how they treat family and friends.
The Blue Tit is associated with happiness, the way it has a blue coloring and a long forked tail. These birds build their nests out of mud and they symbolize freedom, like the wide open sky, and eternal happiness.
A Blue Tit shows up as a spirit guide when
You need to be vocal about your feelings especially love.
You must analyze loved ones.
When losing your faithfulness.
Accepting change.
Enriching love and relationship.
Call on a Blue Tit as a spirit guide when
You need to express your feelings toward the one you love.
Restoring love.
We are undergoing transformation.
We are developing love and trust.
By Flo Saul
May 20, 2013