Baboon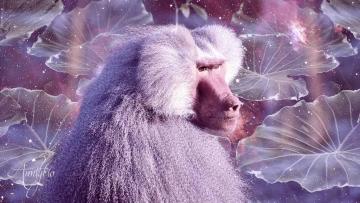 The tremendous baboon can be rather powerful animal totem that represents the fifth house of the Fulani Spirits.
If one is given this wonderful animal as a totem animal then it signifies wisdom, strength and simply a family union.
Ancient history explains that the bamboo animal totems live in an invisible city known as Jangare. The bamboo has been named as the animal who holds the most wisdom.
This animal totem is associated with judging others and defending against danger. This animal totem teaches one that you may be the centre of attention for a while.
If one is suffering from ill fortune then the bamboo animal totem can help. Although the essence of this animal totem is focused on being responsible for his own actions, the baboon still remains the most wildest monkey in the jungle. The baboon has been misinterpreted in history as being a loner. This is just not true, he is quite sociable! It also connotes its ability to communicate effectively, despite taking on an animated appearance.
The baboon has a wide array of skills that allow multiple ways to communicate. It's high and a low pitched voice helps the baboon to give instructions.
In Egypt the baboon was associated with money rituals and it was lucky to keep such an animal.
Moreover, the baboon-like a person is not afraid to show anyone how it feels - maybe this is why they cry out loudly even when other people are around, especially after a fight. When this happens, they may look weak, but showing your true emotions can be the strongest thing that a baboon can do - the most courageous.
It almost, never has a moment when it feels awkward - they are comfortable in any situation that is presented to them. It is their forte to be dynamic, to be flexible, and it does not fear the challenge of doing things that are new to them, they take them on head strong and with their faces held high.
When the baboon presents itself in your dreams, it signifies a more grounded approach to life is required. You might be too elated to realize that you are above your head sometimes, especially with all the events happening around you. It signifies the need to create a sanctum of your own, a place where you can reflect and ponder on the many things that are happening in your own life right now. In addition, it also takes meeting the baboon to make you realize that it is best if you keep some things to yourself, especially with what you have achieved and share them only with the people you really trust.
Moreover, it is also vital that you talk to your family as they may have problems which they wish to discuss with you. It is your job to initiate the contact because they may be too shy or might be too worried to mention it to you.
You call on the baboon when you are uncertain about yourself and you feel the need to keep yourself composed in times of difficult situations especially hard tasks like taking care of a child and at times when you need to find the meaning of what a certain experience means to you, what you can learn from it. Lastly, in regards to reflection, call upon the baboon to find a space for yourself.
In spite of the baboon's socializing nature, it is deeply rooted in the family - a perfect example is that blood is always thicker than water, no matter what happens you will always have the love of its family.
Baboon shows up as a spirit guide when
You need to defend your family.
You need to understand the wisdom of God.
You need to know the sacredness of God.
You need to understand the dead.
You need to understand the throne of the gods.
Call on baboon as a spirit guide when
You need to understand the judgement.
You need to understand sovereignty.
You need power.
You need to defend your family all the time.
You need to understand the sacredness of the gods.
By Flo Saul
Mar 24, 2013