Ambriel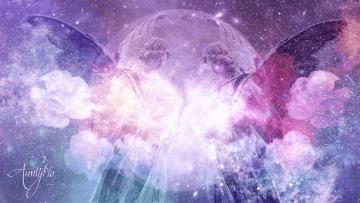 Ambriel is an angel associated with the zodiac sign of Gemini. If you are a Gemini then this angel will help you in your life path. We all have a guardian angel in our lives, to offer us guidance and support. Sometimes we have angels that pop into our lives and help us when needed. The angel for Geminiarians is Ambriel, so if you are born in May then this is your angel.  It does not mean that this angel only works alongside those born in May, he can also help other people in life. If you need help in communication then you can work with this angel. This angel can support new social circles, friends and he can help you say no to people. 
Where does the male name Ambriel come from?
The word archangel is often connected to the Greek term called "archi " this angel generally means the principal chief 12 Angels are very powerful celestial beings and we use them in our daily life we are facing problems, emotional storms difficulties. As much historic artwork which portrays angels in human form. There are scriptural references nature of knowledge surrounding their powers. The name Ambriel is inscribed on a Hebrew charm which is known as a Kamea, in ancient times this charm was used to ward off evil forces.
What is the difference between Ambriel and the 12 guardian angels?
The angel Ambriel is connected to the guardian angels but is specifically a zodiac angel, and therefore, associated with those born in May. The angel Ambriel stands for clarity of thoughts and positive communication with others. The angel also stands for protection - this angel is associated with being assertive and confident. Ambriel is known as the messenger that assists in all our love relationships. When we are feeling overburdened then Ambriel will guard against us taking on too much.
How can Ambriel help you in life?
The lesson Ambriel also brings is to say no to people in life. Sometimes we come up with some crazy ideas in life, and we get excited about those ideas. Ambriel will help brighten up life in general and mean you do not take things that seriously. Remember in life it is hard to be all things to everyone. As this angel is about communication this angel will help you (if you meditate and summon Ambriel) The zodiac angel is connected to Gemini and your link with this angel is associated with not taking too much in life.
The angel also stands for awareness of the self and helps the awakening of spirit. Before calling upon this angel one may be filled with doubts regarding intentions. If one calls upon this angel then it signifies strength will be given and it is believed that one's doubts will disappear.
This angel helps form the steps needed to clearly see a path ahead. When one is experiencing confusion, disbelief, and fear this angel can offer advice. To work with this angel long-term means that you will become more confident about your inner self. 
The message she carries is that one will not have to hide behind a mask of falsehood. Asking Ambriel for help will uncover a strength within - to understand one's true character. If one has the same fear and disbelief of their talents then this angel can be called upon to help forge confidence.
The angel Ambriel helps one to look beyond the hidden masks so that you can clearly see what is in store and act accordingly. As you go through life you may feel that you have been wronged by others - this is natural. These unpleasant situations may take place at any point and this angel will help one to heal.
The angel Ambriel helps one communicate better with others so they are able to clearly see what has caused one to behave as he or she did. You may start to complain that someone is doing better than you in life because you feel that everybody in this world is trying to pull you down or he is better than you. NiceThe angel Ambriel helps you to see "who" you are and you may find that you have some qualities that are better than others.
Biblical Meaning of Ambriel
Turning to the book of Moses Ambriel is mentioned for conjuring in connection of the 7th seal of the planet Mars. The angel helps to clear away any communication problems, in the bible, Ambriel resides over the month of May to offer special blessings to these people. The angel is associated with protection and helps guide our conscious minds. There is clarity in this angel in universal form.
Colors of the angel Ambriel
Purple, deep magenta, or pale rose pink.
What does Ambriel mean?
Ambriel means clarity, communication, and protection. The angel name Ambriel means the "energy of God" and was first found on a Hebrew amulet to protect against evil.
Helps with: Knowing your inner self and that of others.
When to call on Ambriel
When you are in doubt about yourself and your own potential.
When you are not able to understand others.
When you are not able to communicate with others to prevent any unpleasantness.
By Flo Saul
Jun 3, 2013